You may remember our couple Stacey & Kurt who were successful with their application for a free IVF cycle with our Spanish clinic partner University Hospital Quironsalud Madrid last year.
After their virtual consultation late in 2020 the couple made two mad dashes to fly in and out of Madrid beating the UK and Spanish lockdowns to take full advantage of this amazing opportunity.
And they are glad they did as they are pregnant and close to their 32 week scan.
We ask Stacey and Kurt to update on the last few months since finding out they are expecting.
Stacey & Kurt
Me and Kurt returned from Madrid full of hope and kept everything we could crossed. The two week wait was really hard as Stacey was on edge the whole time and really struggling with the side effects of the hormones.
The morning of the pregnancy test we agreed for Stacey to do the test and pass it to Kurt so we could find out the results together. That morning came and we were both on edge but also ready to find out if the little one had decided to stay in their new home. Stacey woke up early and came back with the test back in the box with the results still unknown. When I saw the positive two lines on that test I couldn't control myself and we both burst into tears.
Stacey went out to get more tests, in fact she bought 5! That was the most amazing day and I can still remember the amount of happiness and love we both felt.
We decided to wait until we were 12 weeks before we told the world. Stacey really struggled with morning sickness and feeling not well the first 12 weeks but she carried on and put on a brace face.
We decided to have a reassurance scan at 8 weeks and we both completely broke down in tears seeing our little Peanut on that screen and their little heartbeat going crazy.
Finally we had everything we ever dreamed of.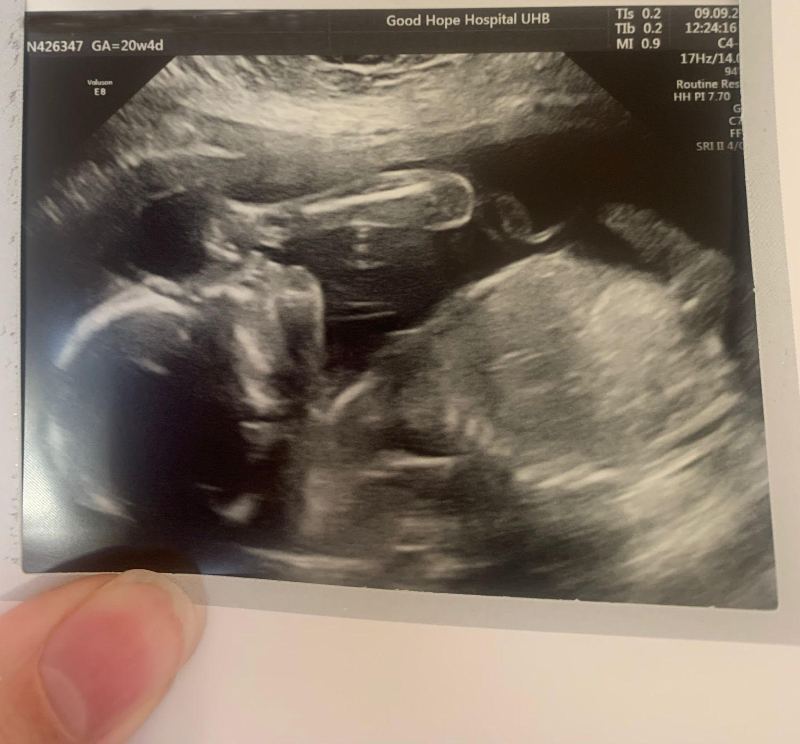 When we could tell everyone our amazing news it was such a nice happy time and everyone was and still is completely over the moon and cannot wait to meet the little one.
When Stacey decided to apply to the competition over 18 months ago she never in a million years thought she would win let alone come away with our precious baby on the way. We both cannot thank the magazine, the Quironsalud Clinic in Madrid or Dr. Antonio Gosalvez (who was behind our treatment) and the support we have had from both from the start has been amazing and we will always be so grateful for everything.
Baby Bartlett is coming along and growing nice and healthy and we cannot wait to meet them on the 23rd January 2022.
I have my 32 week scan coming up shortly to check the Placenta as it was at 20 weeks. If this is still low then they may be coming a little bit earilier.