Egg Donation At 50 – Tina Malone Talks Exclusively To Fertility Road About Giving Birth At 50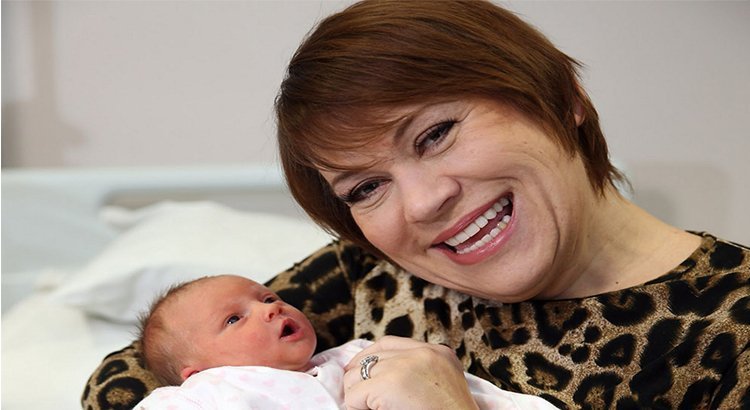 Tina decide Egg Donation and IVF Treatment to conceive her second child
If there's one topic bound to get the moral guardians all of a fluster, it's the question of what exactly is an acceptable age for a woman to have a baby. Whilst teen mums are vilified in the media as irresponsible scourges of our ailing benefit system, older mums are often seen as selfish, desperate types who have foregone their 'natural' child-bearing years for the sake of a career or even worse… a good time.
Luckily, actress Tina Malone has seen it from both ends of the spectrum. She gave birth to her first daughter Danielle when she was just 17, then had her second, Flame, at 50, thanks to IVF and egg donation. She describes, in emotional detail, her journey to become an older mother in her new book Back In Control.
"I have to be honest with you. I'd say only about five per cent of people have criticised me or have called me selfish. Are those people entitled to their opinion? Absolutely!"
The Liverpudllian mum, who's best known for playing the outrageous Mimi Maguire in Channel 4's Shameless, reckons she is old enough and wise enough to take any criticism very squarely on the chin.
"I have to be honest with you. I'd say only about five per cent of people have criticised me or have called me selfish. Are those people entitled to their opinion? Absolutely!" she chuckles in her trademark, throaty tones. "But do I give a damn? No!"
Luckily Tina is in good company. The number of babies being born to women over 40 have more than doubled over the past 20 years, and more than five million IVF babies have been born since Louise Brown in 1978.
Although Tina says she is still pre-menopausal, she chose to have IVF and egg donation on her consultant's advice. She and her husband Paul, who is 20 years her junior, travelled to Cyprus to a private clinic for the treatment and then went on to have baby Flame at an NHS hospital in Liverpool, where she says her experience was "absolutely phenomenal". Tina says she was realistic about her chances of having a successful pregnancy, but both she and Paul were overjoyed to discover that IVF had worked first time.
"I breezed through it. I won't be flippant, because I know that's not the case for all women. You have six weeks of injections and pessaries up the front and back! And I was working whilst doing that. We said we would give IVF three chances and we were lucky enough that it worked first time.
"I actually knew the day after I'd had the IVF that I was pregnant. I just felt it in my boobs within 24 hours. They tell you not to test for 10 days but I did the pregnancy test six days in and I got told off by my doctor!"
Tina is, however, the first to admit that IVF wasn't a decision that she and Paul made lightly, and she practically transformed her body in order to get 'baby ready', shedding an astonishing 11 stone to make sure she was in the peak of physical health.
"I'm not saying at 50 years of age every woman should run out and get pregnant. I took two years to get ready. I didn't do it to keep my young husband; I did it because I really wanted a baby.
"If it didn't happen, we are still secure and in love. If it did, then great! I gave up the cigarettes, I gave up the chocolates, I dieted and lost all that weight. I handed my notice into Shameless. We planned it. I didn't do it on a whim – we looked at everything from surrogacy to adoption to egg donation."
Although Tina and Paul opted for egg donation in the end, she does reveal she was initially concerned that Flame wouldn't feel like 'her' baby.
"But then I realised I feed it, I bring it into the world, it's my blood running through its veins via my placenta…. And since then I have learnt about something called epigenetics.
"Recent research," she continues, "has discovered that when egg donor babies are born, the baby very often looks like the birth mother. They now believe that once the eggs are put into you, the cells grow and develop into DNA, so the whole nature versus nurture argument isn't quite so clear cut."
Tina now finds herself in the somewhat unusual position of being "a poster girl for IVF" as she calls it. She recently made a documentary for the TLC channel about her journey to become a mum at 50 and has even taken her battle to the House of Commons. The current NHS cut-off age for IVF has just been increased from 39 to 42 but Tina believes that improvements can still be made.
"I went to see the Conservative MP, Nadine Dorries, to discuss the issue of IVF. First of all there is a stigma – people whisper the word 'IVF' as if they are saying syphilis! But every single person I know knows someone who's had IVF. Be it a friend, colleague or sister. It's just so common. Secondly, it's basically a postcode lottery. If you are living in a low income area where there is a lot of poverty, a lot of drug problems, there is often very little money left over for something like IVF. You can't get an exact figure on the cut-off age… some local authorities cut off at 36, 38, 42. It's bizarre. Even when I pinned Nadine down to try to get an exact age, she wasn't quite 100 per cent sure."
One of Tina's biggest fertility bugbears is that while women's lifestyles have changed enormously over the past few decades, society and the medical profession's attitude towards older mums have stayed stuck in the past.
"Thirty years ago," she says, "the average age of a woman giving birth was 23. It's now 33. My argument is that women are now more driven academically, they are more career-focused, they're more in control of their lives. They are maybe making better choices and road-testing a few partners!
"Maybe you aren't meeting someone until your mid- to late-thirties. So what happens? You meet someone, save for a few years for a deposit for a house, then you decide to go for a baby. You try
for a few years and nothing happens. You are then touching 40 and the cut-off point is 42! And yet you have worked, you have tried to make a life for yourself and all of a sudden you find someone saying 'You know the system you have worked for and paid into? Well you aren't entitled to IVF, you are too old.' My argument is it should be up to 45."
Tina is obviously undaunted by becoming a mum in later life and had a refreshing insight into the difference between motherhood as a young teenage mum compared to that in more advanced years.
"It's sheer bliss now. I've always said that the one thing I had in common with Margaret Thatcher is we only need four hours' sleep a night and that's where the similarities end! But I'm so happy. In fact I am sometimes guilty of picking my baby up and cuddling her when it's not strictly necessary.
"I breezed through it. I won't be flippant, because I know that's not the case for all women. You have six weeks of injections and pessaries up the front and back! And I was working whilst doing that. We said we would give IVF three chances and we were lucky enough that it worked first time.
I still put my make up on… I'm still writing, travelling, filming, we even filmed the birth for the documentary! I haven't had a day off.
"The only pro to having my first daughter Danielle so young was the very fact that when you are young you are fearless and blinkered. You aren't aware of cleft palettes, or Down's or stillbirths. Nowadays, if you read too much of the conjecture that's on the internet you become very paranoid about it. When you are 17 you are worried about getting back with your fella, or what you are going to wear, or if you have a date next week.
"I'm 51 and very happy with myself. I have many flaws but I am aware of them and I don't try to conceal them. Before I was a kid with a kid. But I did a good job. My older daughter is beautiful, intelligent and successful. She's an actress and has never signed on in her life.
"But now I am more secure. I am with a wonderful man and have a nice home, and I am just more comfortable with myself. I am physically and mentally in a better state. I'm not morbidly obese anymore and I've been sober for 15 years. Even my birth experience was phenomenal – I was up six hours after the c-section having a shower. I did get pre-eclampsia before the birth but you can get that in your twenties or thirties.
"I was confident, I wasn't scared and my age was totally and utterly irrelevant."
And as a last retort to the critics, Tina says she would even consider having another baby.
"I'm not fazed by any controversy. If we do have another, it will certainly be within the next few years. I don't believe in getting pregnant at 60. I think really for me, in my opinion, 55 would have to be the absolute cut-off age. There are no major diseases in my family. I think you have to look at your genetics and all the things that beat our bodies down. I've got my body better. I'm a fine wine, me… I've got better with age."
Back In Control by Tina Malone is out now, through Hachette Publishing.
IVF Spain Update Us on Claire & David and Laura & Ian Progress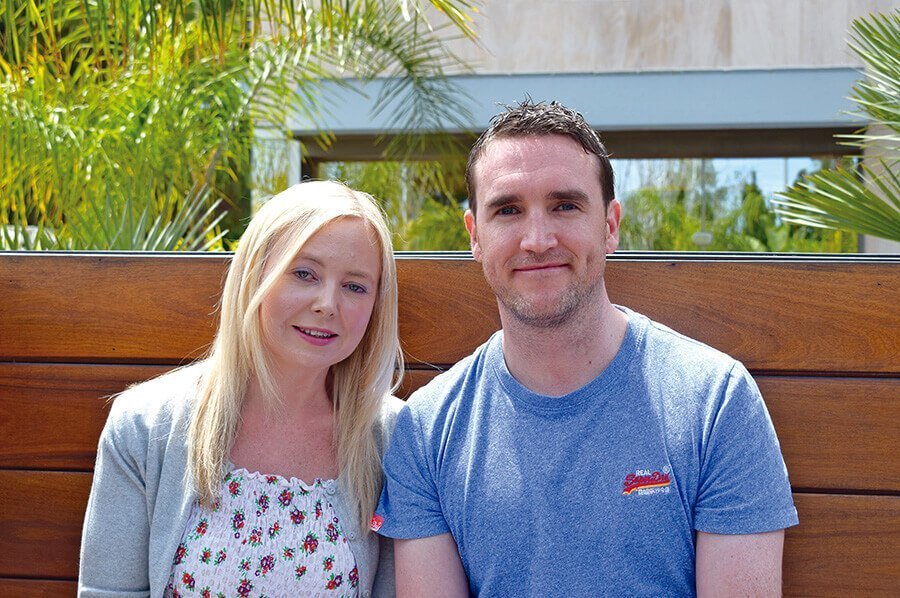 During the first week of August, Claire (42) and David (35), the winners of this year's Fertility Journey, visited our clinic for their first embryo transfer.
They were pleased to share with us the emotion and joy created by their short stay in Spain.
"We have spent some time in Alicante ahead of the transfer, relaxing in the area and preparing for our next visit to IVF Spain. Our experience with previous treatments with UK clinics has been very stressful but in Alicante, we have spent most of our time preparing for treatment by relaxing on the beach!"
Claire and David arrive at IVF Spain after having been trying to get pregnant for 7 long years and experienced 3 failed ICSI treatments with their own eggs. IVF Spain discovered that the quality of the embryos was poor and that they had always been transferred on day 3 of their development with a bad morphology. In order to increase their chances of getting pregnant, the clinic recommended an egg donation treatment – a fertility treatment which that greatly depends on matching the perfect donor to the patient.
To protect both patients and donors Spanish law requires that the donation process must be completely anonymous.  In addition, donors must be in good condition and younger than 35. Moreover, both donor and patient must share a phenotypical resemblance: hair colour, BMI, eye colour, and so on.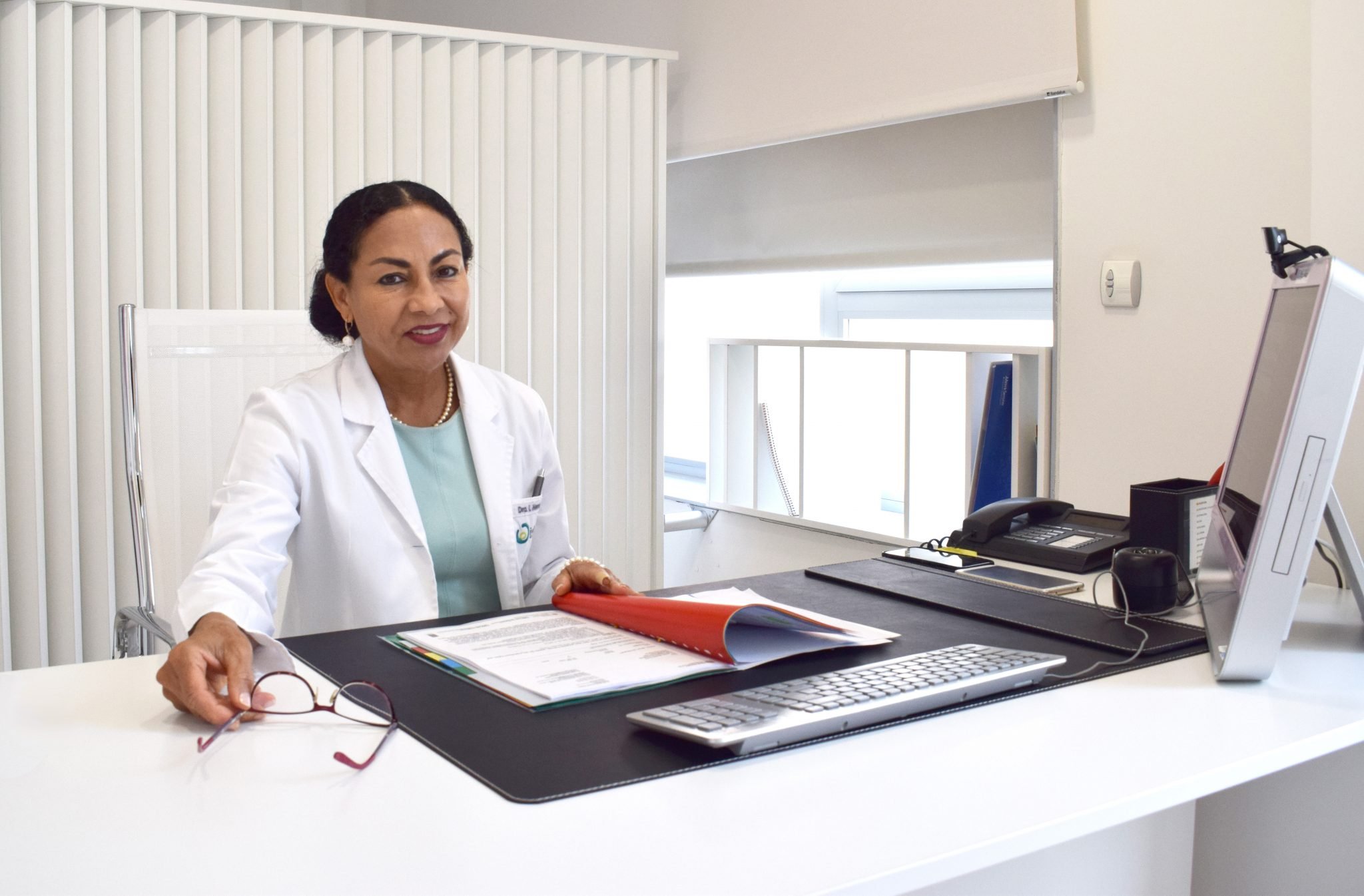 Claire and David were grateful that so many women in Spain were willing to donate their own eggs, enabling others less fortunate, the chance of forming a family.
"We are really grateful that there are people willing to donate eggs. If we are being honest, it has taken a while for us to understand the Spanish anonymity rules for egg donors, but we have taken the time to consider this. It's hard not having control or letting another person being in charge for something related to your baby. However, we even think now it is better that way, because the more you know, the more you want to know and we do prefer knowing nothing and leaving it in the clinic's hands."
There are other factors, however, that are crucial to achieving a successful pregnancy: the quality of the embryo and the microenvironment of the endometrial lining. This means that a successful pregnancy also depends on the successful communication between the embryo and the endometrial lining.
When we discovered that Claire didn't have a single positive pregnancy test, we suggested to perform an endometrial biopsy to analyse the retrieved sample by means of the ER Map® test (Endometrial Receptivity Map) and accurately determine the receptivity of Claire's endometrium during the window of implantation (the moment when the endometrial lining is receptive).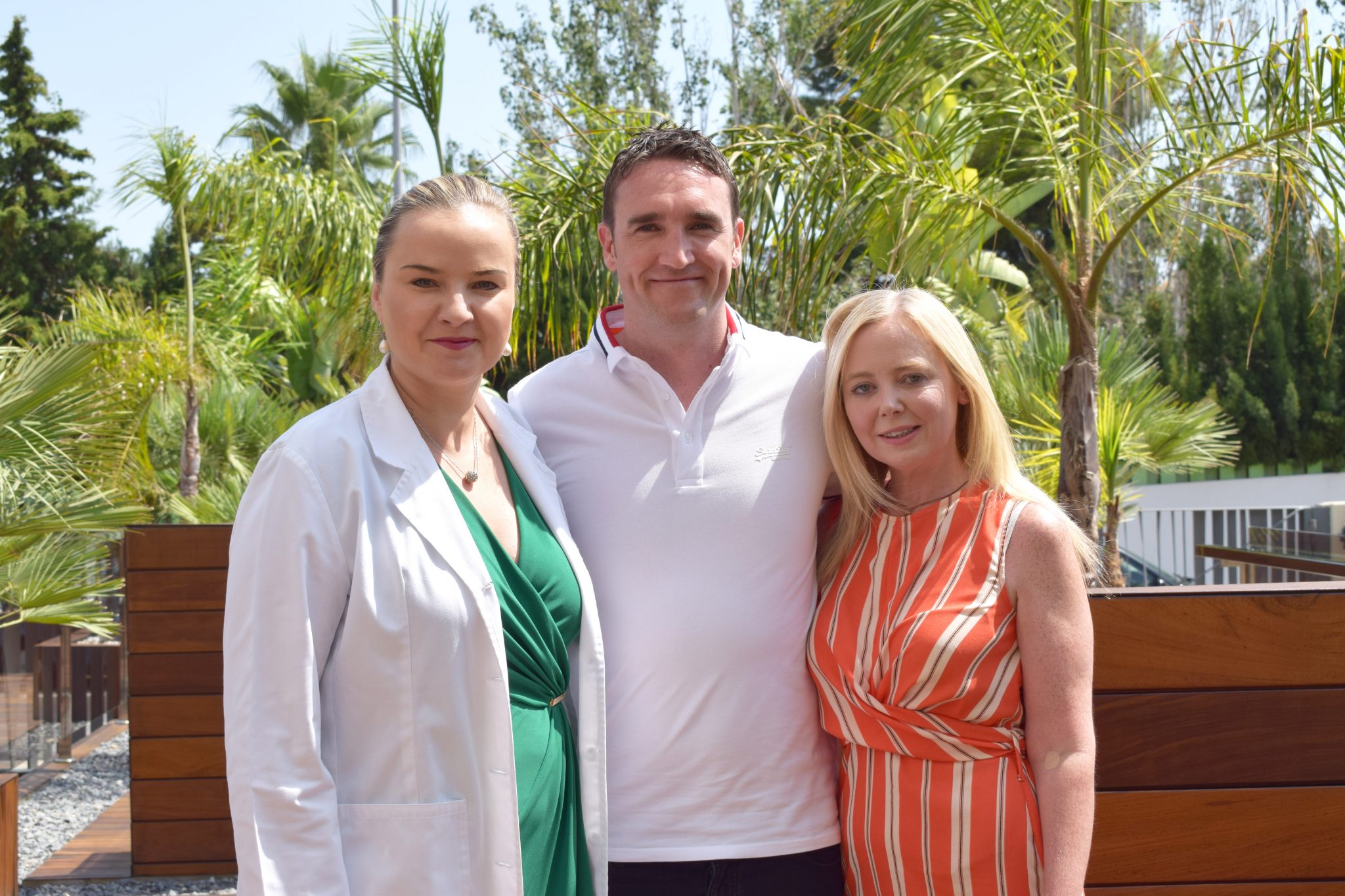 "The test results showed that Claire's endometrium was post-receptive, meaning that a transfer performed on day 5.5 of progesterone (like in 70% of cases) would not end up in a successful pregnancy" explains Dr Natalia Szlarb.
"Before coming to IVF Spain, we had never heard of an endometrial study or ER Map. The fact that the endometrial study analyses the best time to transfer the embryo could make a big difference to our treatment. We were really impressed with the accuracy of the test. Our ER Map test result was post-receptive and although this was initially a concern, we later came around to the view that knowing the best time to transfer the embryo would increase the chances of success, and this might have been the reason our other treatments in the UK had failed" – Claire and David.
There are other key factors, however, to achieve a pregnancy such as the male factor. David suffers from teratospermia which implies that 96% of the ejaculate sperm cells have an abnormal morphology. Luckily, we were able to improve David's sperm quality and fertilize the retrieved eggs.
We now wish them the best of luck!
Although it will not be until mid-September when Laura (41) and Ian (44), the 2018 runners-up visit us in Alicante for their embryo transfer, they already talked about the differences between IVF Spain and former clinics. They were impressed at how extensively their case had been studied by our fertility specialists.
"I think the longer you have treatment the more difficult it becomes. When you begin there's a naivety along the lines of, 'we'll have one, maybe two goes at IVF and have a baby in our arms'. After 7 treatments (and lots of add-ons) the feelings completely change. You feel terrified that it won't work, and you'll never become parents. You're scared it will work and you'll lose the baby again (Laura and Ian have experienced 5 losses). You're scared of physically going through the treatment as you've had so much. Each test and treatment creates fear – fear that it will hurt, be traumatizing, that it will give you more bad news. Then there's the impact on your own mental health and emotional well-being. Can I handle this? What if the results say something's wrong with me? Will I blame myself? It starts to really damage your mental health and well-being. Financially you start to feel that you're risking everything, and it may not pay off.
For us we have renewed hope with IVF Spain. We have undergone tests that we've never had before (ERA, NK biopsy and KIR). We have paid for lots of very expensive blood tests and drugs but never received this kind of analysis. So, we feel as though the treatment is now specifically for us.
This creates more positivity, a feeling of being cared for and that maybe, just maybe, we'll get to be parents.
Plus, we're now using donor eggs. The hope starts to soar and with that comes excitement. Hope is the only thing that keeps you going and overcoming the fears I mentioned. This opportunity with IVF Spain has given us hope that we thought we'd lost."
Laura is 41 years old and has already been through traumatic losses including an ectopic pregnancy. Due to this and to the fact that Laura suffers from recurrent miscarriage, our medical team at IVF Spain recommended an egg donation treatment to increase their chances.
The couple is thankful for the egg donation process being anonymous, as otherwise it would be really difficult to find a donor:
"For us, it's taken some of the pressure away. I can't imagine how difficult it would be to choose a donor ourselves. But putting your complete trust into someone else's hands is hard.
We've explored whether it would be better for our future child to know the donor. I think that's something we'll never know. But we hope that he/she will understand our decision to choose an anonymous donor. It would be good to know a little more about the heritage of the donor but then we also know that we often don't even know our own heritage. We'll make sure Spain is a key part of their story.
It's also really odd to not know who this person is. What they look like and personality. What's motivating them to help us. One of the things I've been really consumed with is the gratitude you have for this person. I'd like to thank them but can't.
Anonymity means we have a chance to become parents. Without it there'd be a shortage of donors like there is in the UK. For us, this makes it a wonderful gift – a chance to hopefully find a donor that is perfectly matched to us genetically (due to the KIR tests) as well as in physical looks.
I can't stop thinking about what our future child will look like – but I think that's quite normal" says Laura.
Immunologically speaking, finding a matching donor for Laura is certainly a challenging task, which is why IVF Spain suggested that we find out her KIR via a blood test. Ian was also tested for his HLA-C in order to determine whether the maternal – foetal interaction will be optimal or not.
Thanks to the KIR-HLA-C genotyping test it is possible to determine if the uterine KIR and the embryonic HLA-C will both be compatible. If so, the pregnancy will carry on successfully; if not, then the most probable outcome will be an unviable pregnancy and subsequent miscarriage.
"We carried out the KIR-HLA-C genotyping and concluded that the patient had a KIR AA. It is known that KIR expressed by the natural killer cells present in the maternal part and the HLA presented by the trophoblastic cells together will influence the outcome of the pregnancy. With Laura's KIR AA variant, the sperm would have to be HLA C1 C1 and the HLA of the donor should be as well HLA C1 C1; as her husband has a HLA C1 C2 variant, we will treat her with a medication that reduces her immune-genetic reaction. We believe that not paying attention to this issue in the past is what may have caused the implantation to fail" suspects fertility specialist Dr Isabel Herrera.
We tend to recommend a single embryo transfer, as it has been proven that on patients with an immunological profile such as Laura's, double embryo transfers would increase the immunogenetic reaction, hindering the achievement of a pregnancy" says Dr. Herrera.
It is also known that these cases tend to have a higher risk of pre-eclampsia, late spontaneous abortion or miscarriage.
Until their transfer day the couple will try to enjoy summer just as any other couple would;
"I've tried to just carry on as normal. Remain healthy, take pre-conception vitamins. Reach out and get support through the Donor Conception Network in the UK and connect with other people going down the DE route via online forums. It's quite isolating and scary so it's important to reach out and not feel so alone.
I'm trying to relax a little – not so easy with work but it's a work in progress. I need to get that bit sorted now treatment is on the horizon."
If You're Thinking About Becoming A Mother Using Donated Eggs, Here Are Eight Questions And Answers For You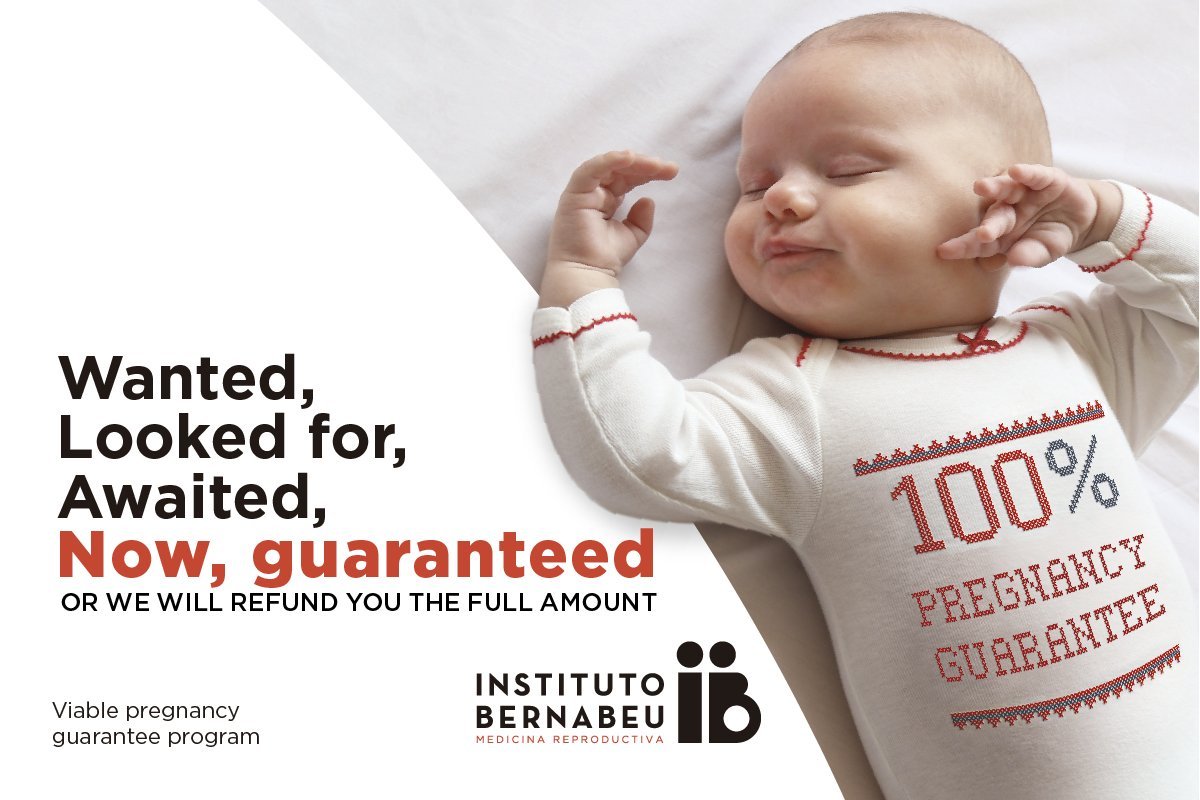 As is only to be expected, women have a number of doubts when they first take the important decision to become a mother using an egg donated by another women. The first reaction is one of shock when a woman finds out that she will need to rely on egg donation. Once they have had time to come to terms with the situation, many women take it on board naturally and accept the option that will allow them to give birth to their child. For others, however, the process takes longer and it needs to be thought through before it can be accepted or, in some cases, rejected.
Women go through what is known as genetic mourning during the process when they become aware of the fact that the baby will not have their genes. According to the experts at Instituto Bernabeu, accepting this situation from the outset is the best way forward if patients are to avoid turning the doubts and questions that come up along the way into a concern or even an obsession for the future mother.
1. Can I be told who the donor is?
One of the main questions that future parents at Instituto Bernabeu ask is with reference to who the donor is. They want to find out as much as possible but Spanish law is clear and protects donor privacy. The future parents will not be told who she is, where she works and what her academic background is. Spanish Law 14/2006 on Assisted Human Reproduction Techniques regulates egg donation and protects the anonymity of the donor.
2. What can I be told about the donor?
Recipients may be told about the donor's phenotype. They are told about the donor's physical characteristics and blood group (which must be compatible with the partner's blood group) as well as her age (an important piece of information in terms of the possible tests needed during the pregnancy such as the amniocentesis test or triple screen test). In compliance with Spanish law, donors must be between 18 and 35 years of age. However, at Instituto Bernabeu, in order to ensure optimum donation conditions, we prefer them not have reached 32 years of age, being the average age of their ovodonas 25 years. Donors must also be in good health both physically and psychologically and they are given a number of specific tests in this sense. The Law allows to know general information about the donor. The staff in the egg donation department carry out a meticulous selection of physical characteristics: the donor must be medically and physically compatible with the recipient and the clinic complies rigorously with this requirement, keeping in mind how important this is to the patient as her child grows.
3. How can I know that the donor is completely healthy and that my child will not have an hereditary disease?
At Instituto Bernabeu, donor candidates have to pass medical analyses in order to confirm that they have no genetic, hereditary or infectious diseases. They also have to pass a personalised psychological analysis. In fact, the department excludes over 30% of candidates as a result of not passing one or more of these tests. Furthermore, since 2016 and with no added cost for the recipient patient, Instituto Bernabeu has carried out a Genetic Compatibility Test (GCT) on all donors. This is a ground-breaking test that identifies mutations in the genes responsible for over 600 recessive disorders. If it is the desire of the receiving couple, to the patient expense, it can also be done the GCT in the father to contrast both results and ensure that the future baby is not bearer of these diseases.
4. Can we have the same racial background? I want her to be

from

my part of the world.
In the consultation, one of the recurring requests from women of non-Caucasian ethnicity who are going to have a child with donated eggs is to know the ethnicity of the donor. The doctors at Instituto Bernabeu explain that the law stipulates that the donor must be compatible with the recipient's racial background (Caucasian, Asian, black-skinned). However, some people wish to go a step further and ask the doctor at the clinic to ensure that the donor is of a specific ethnic background. The egg donor bank at Instituto Bernabeu includes foreign hundred donors and donors of different races but the percentage of donors of this kind is smaller than the percentage of European donors. From a cultural point of view, donation – whether this be organ or gamete donation – is more accepted in the Western world. In other cultures, such as Asian, there is a greater reluctance to donate and donors do not readily come forward. The clinic's aim is clear: To guarantee the maximum physical and phenotypic similarities with the patient.
5. Can you tell me if the donor has higher education qualifications? Can I choose her based on her hobbies?
Some couples show a keen interest in the donor's academic qualifications. Natalia Romera, the psychologist specialising in assisted reproduction at Instituto Bernabeu, explains that the child's intellect is an external factor and that his or her social and family environment will shape this and guide him or her towards a particular academic preference. The same applies when some people ask to be told what the donor's hobbies are or indicate that they wish to choose her based on external factors such as her degree of interest in a given sport or if she enjoys reading. A large number of our donors are incredibly well-rounded people with higher education qualifications. During the interview with the psychologist, her intellect is evaluated and is an exclusion factor.
6. How many donated eggs will I be given?
Instituto Bernabeu guarantees an average of 11 and a minimum of 8 donated oocytes for all its patients. Should the number retrieved be less than this, that donor's cycle is cancelled and a new donation is assigned at no additional cost.
7. Once I've decided to go ahead with egg donation, how long will I have to wait?
Instituto Bernabeu has over two decades' experience in egg donation and, since it manages its own donation bank with over 600 egg donors, it does not have a waiting list. In fact, some patients, in particular those from foreign countries, are surprised by the immediate nature with which treatment can begin and the high success rate we have.
8. What are the chances of success with egg donation?
Egg donation is currently the technique with the best pregnancy success rate. At Instituto Bernabeu, the rate of positive pregnancies using donated eggs is 81.5% when all embryos are taken into account. In other words, the total number of fresh transfers and frozen embryo transfers.
Egg donation abroad – best IVF clinics ratings are here!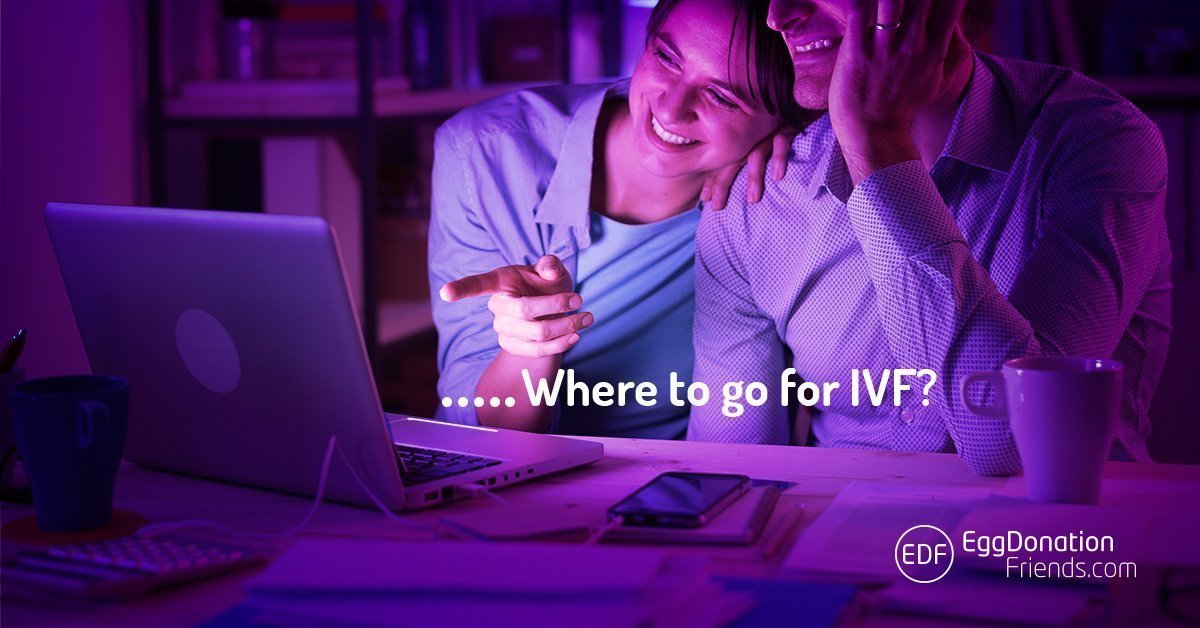 IVF with donor eggs can be eye-wateringly expensive in some countries that is why so many fertility patients rely on best IVF clinics ratings to be able to get the best value treatment for their hard-earned money. However, with the modern advances in medical science, and the ever-increasing number of clinics offering IVF, it is also becoming increasingly difficult for potential patients to choose the right clinic for their needs. You do not have to do the math to realize that there are not enough hours in the day to be able to sit down and compare all the best fertility clinics in Europe.
You are right to feel slightly confused, not knowing where to look. Even if you try, you need to know that different clinics use different methods of presenting their IVF statistics and all those neat little graphs on clinics' websites may be hard to understand. Also, the best IVF clinics for the over 40s will not necessarily be the best match for a 50-year-old patient.
The experts at EggDonationFriends.com know that knowledge is power and that you have the right to know, compare and choose. Certainly, you do not wish to end up like Kelly and Rick* who picked the nearest IVF clinic instead of researching the market first and checking the best IVF clinics rating. They spent nearly £55,000 on 6 cycles of IVF with donor eggs over the course of three years, without success.
How can you be sure that you do not wind up in the same boat as Kelly and Rick? You can benefit from free patient assistance offered by EggDonationFriends.com. Every year Egg Donation Friends publish best IVF clinics online ratings dedicated to patients embarking on their fertility journey. The website has already published a second edition of fertility clinics ratings and so far they have been downloaded 7,000 times.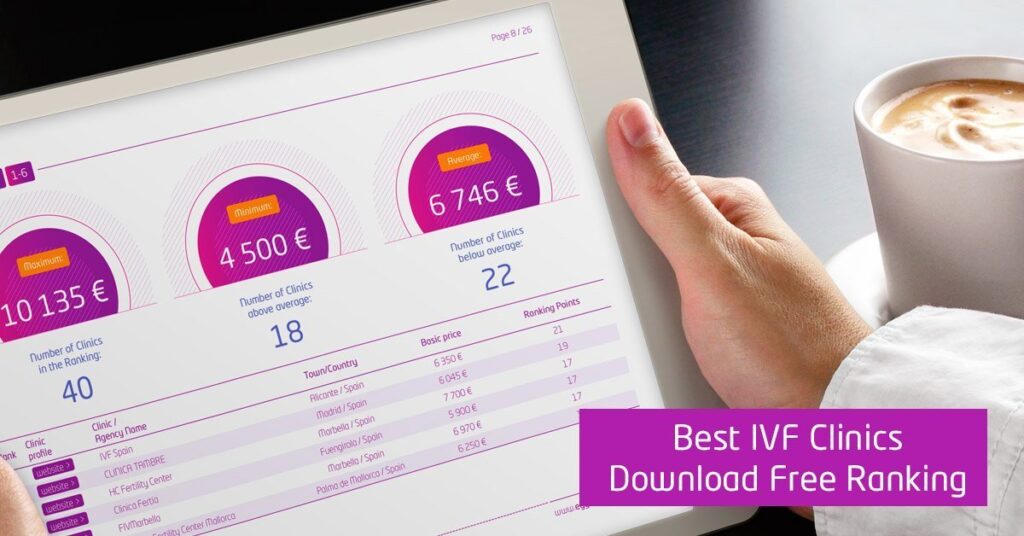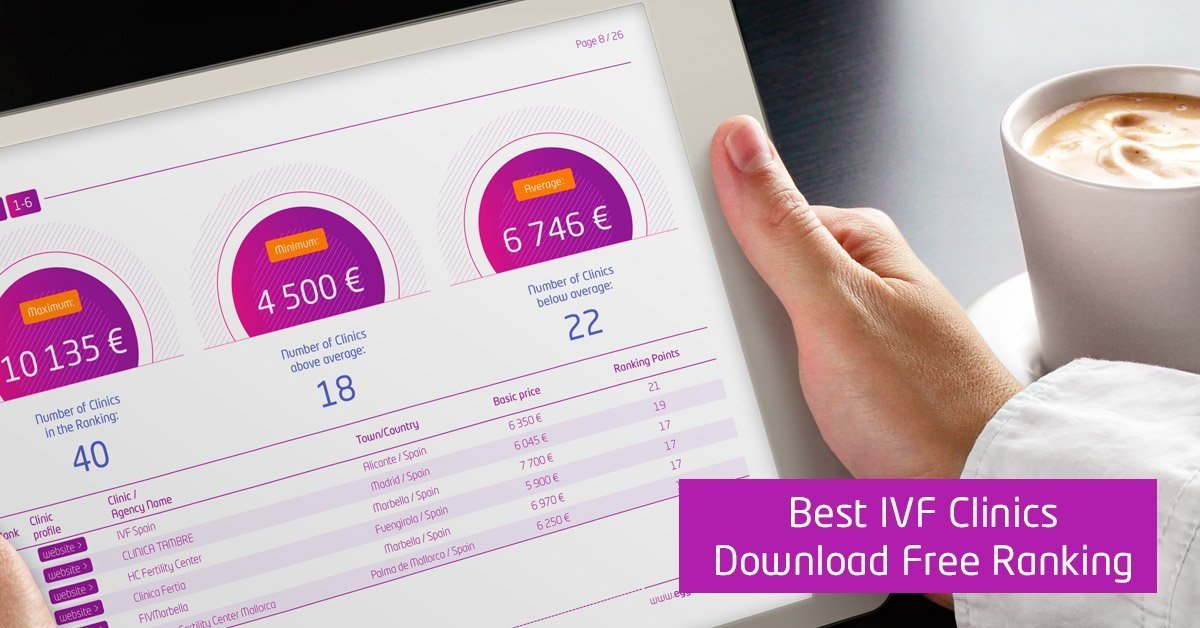 What's in the IVF Egg Donation Clinics Ranking?
Fertility clinics ratings are available for the most popular IVF destinations, including Spain, Portugal, the Czech Republic, Slovakia, Cyprus, Greece, Poland, Latvia, Estonia, Lithuania, Ukraine, Georgia, Russia and India; and other destinations such as Mexico, Australia, Belgium, Malaysia, the UK and the USA to name just a few. All fertility clinics ratings come in the user-friendly .pdf format.
Every report contains 6 ranking categories: best clinic, best prices, best success rates, best guarantees, best procedures and best treatment times. EggDonationFriends have carefully screened the clinics' offers and gathered all the essential information for your easy reference. Clinics are awarded points in each category: a maximum of 25 points for price, 25 points for IVF success rates, 15 points for procedures, 20 points for guarantees (the number of guaranteed eggs) and 15 points for treatment time at the clinic (the maximum stay at the clinic and waiting time for fresh donor eggs).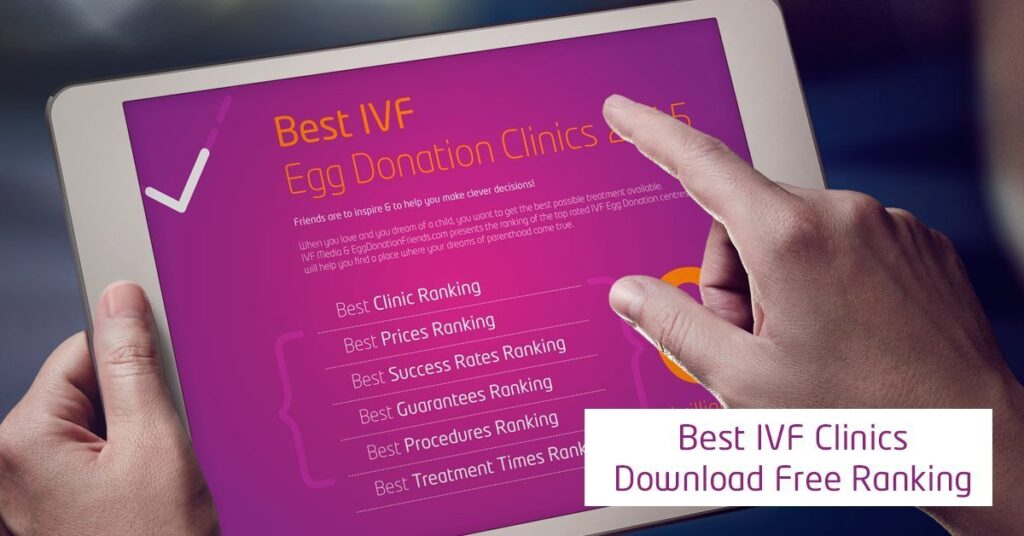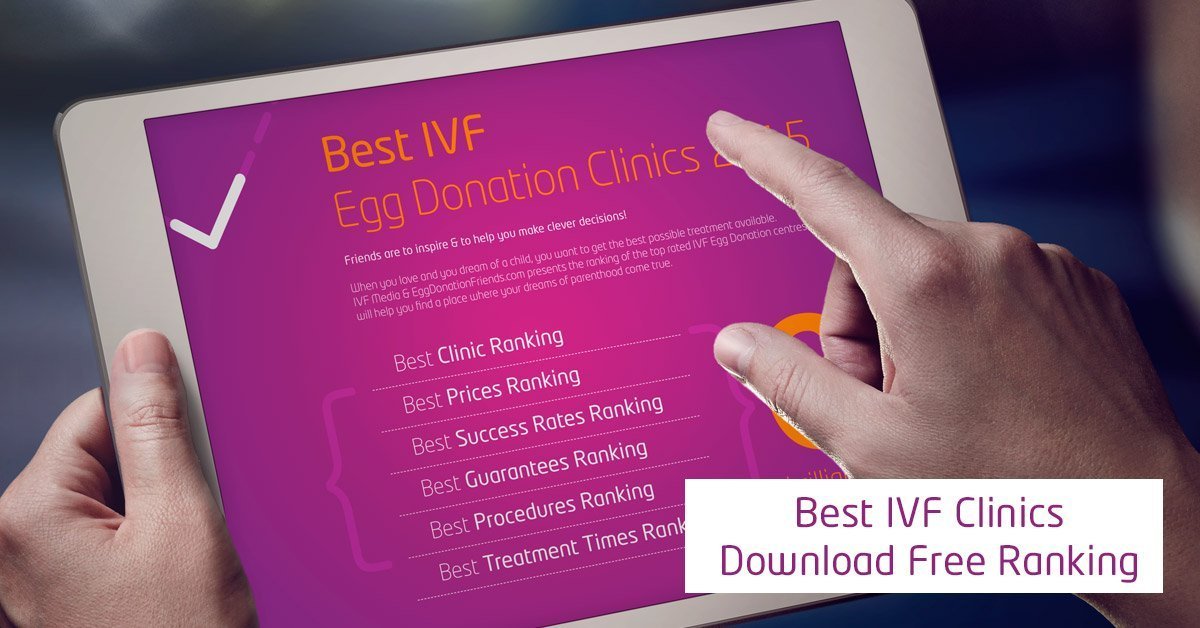 Choosing best fertility clinic for your needs is probably one of the most important decisions in your life. Make sure you make an informed choice that will lead you to your dream of becoming a parent. Before you book an initial consultation with a clinic, download and check the EggDonationFriends ranking as a priority and find out if the destination or the clinic you are interested in ranks best in the report.
Remember: knowledge is power. And you have the right to know, compare and choose. Download the Top Rated Egg Donation Clinics Worldwide Rankings 2017. They are free and always will be. EggDonationFriends have been helping you make the best choice since 2013.
* names have been changed