IVF treatment availability at Cyprus IVF Hospital
IVF at Pelargos IVF Medical Group - restrictions
Woman maximum age
54
Single woman
Allowed
Same sex female couples
Allowed
HIV (female)
Not allowed
HIV (male)
Not allowed
HCV / HBV (female)
Not allowed
HCV / HBV (male)
Not allowed
About Cyprus IVF Hospital
Cyprus IVF Hospital first opened in 1995, although it operated under a different name, Famagusta Medical Centre Hospital, until 2017 when it changed the name. Upon obtaining their ISO 9001 certification, thanks to its excellence in care due to both the quality of treatment and the treatment itself, the clinic became the first in North Cyprus to hold this highly coveted certification.
Once you are inside the clinic you will notice that it has a very sleek and modern appearance, with a range of light colours such as cream and light grey, as well as a light brown in places, with the light colours in place to help all of its patients feel calm and relaxed while waiting for their treatment. All of the rooms are clean and well designed, to provide you with the comfort you require on your journey to parenthood.
Cyprus IVF Hospital is a very inclusive clinic and is accepting of more patients than most, with them able to offer treatment to women up to the age of 55, although those over 45 will require special permission for certain tests. The clinic is also accepting of patients from the LGBTQ+ community, and are able to offer treatment to lesbian couples, as well as to transgender and non-binary patients. For two mothers looking to have children, the clinic has a treatment called reciprocal IVF where both women will take part in the experience of bringing a baby into the world. If you are a patient who is unable to carry a child then the clinic will offer gestational surrogacy and will create embryos using the patient's own gametes.
If you require a donor then this clinic is right for you, as they have access to a large and diverse donor network. Thanks to this diverse network of donors the clinic is able to offer treatment to patients of many nationalities and ethnicities (including Caucasian, Scandinavian, African, Asian, and Arab), to ensure that their needs are fully met. All donors, for both eggs, embryos and sperm, are given check-ups and their family and medical history is taken, to ensure that the donors are the healthiest donors available, this way the clinic can ensure that all donations you receive will be of the highest quality to ensure higher success rates.
A key aspect of the care provided by the clinic is their 24-hour care, which allows you access to their expertise at any time and on any day. Sometimes you may have a question on your mind about your treatment or a concern, and you don't want to wait until opening hours, thanks to their 24-hour care you can ask your questions and have your concerns answered as soon as you can pick up the phone and dial their number, or contact them online if you prefer. And thanks to their multilingual staff you can have your questions answered in many different languages, so communication should be no issue at all.
Because the clinic has your comfort in mind they even offer three different types of treatment plans when it comes to your stay in Cyprus:
Option 1 – You have tests performed either in your home country or Cyprus but everything else is done in Cyprus, with you being required to travel there for a 1-time stay of 21 days.
Option 2 – You travel to Cyprus twice, once for 3 days and once for 7, totaling 10 days. Tests and medicine are all given in Cyprus but the medical protocol application is performed in your home country.
Option 3 – You travel to Cyprus one time for 7 days, but tests, medicine and the medical protocol application are all performed in your home country.
With all 3 options you are required to travel to Cyprus for fertilisation, egg collection and embryo transfer, but the rest is up to you.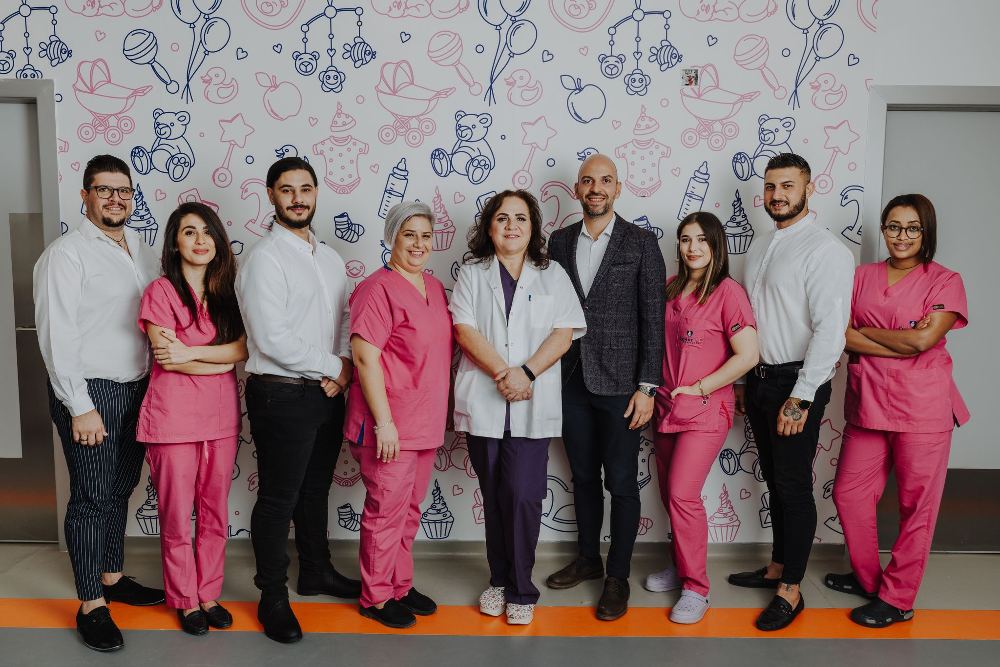 Experience and Medical Staff at Cyprus IVF Hospital
The team at Cyprus IVF Hospital has a wealth of experience in medical care, and are fully qualified to help your dreams come true. The staff of the clinic are:
Dr Serap Kağan, the Medical Director and IVF specialist with 33 years of experience.
Dr İçten Balık Kıvançlı, an IVF Specialist and Obstetrician/Gynecologist with 13 years of experience.
Dr Mehmet Tuzlali, is a urologist with 23 years of experience.
Dr Cemal Mert, a Children's Health and Diseases expert with 23 years of experience.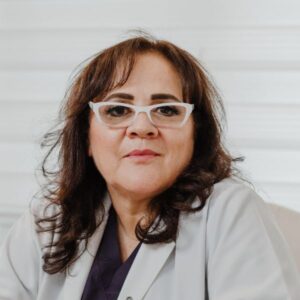 Backing up this team is a highly qualified group of nurses and specialists, whose sole purpose is to help you start the family you have always dreamed of.
When it comes to your fertility there can be many factors that have an impact on your ability to have a child. Two of these factors are the general health of your body and the health of your mind. Both of these are very important and the clinic knows this, so as part of your treatment you will have access to both a dietitian and a psychologist.
The dietitian will work with you to teach you how to eat right, in order for your body to be as healthy as it can be with the food you eat, as the food we eat always has an impact on our health, and eating right can make a big difference in our lives and how healthy our body is. There is a saying that a healthy mind means a healthy body, and this can also be true, as the psychology of our brain can play a much bigger part in our health than people realise. The psychologist at the clinic will work with you to ensure you have a healthy mind and that you have no fears or doubts going into your treatment, to ensure that you remain positive throughout.
Thanks to the staff being multilingual you will be able to effectively communicate in multiple languages such as:
English
German
French
Italian
Albanian
Arabic
Persian
Turkish.
IVF Costs at Cyprus IVF Hospital
When it comes to the costs of IVF treatment with Cyprus IVF Hospital there are set prices for specific treatments, but the overall cost may change depending on any additional testing or requirements you may have. The final fee may vary, but your specialist will discuss this with you during your medical consultation, of which your first will be free.
IUI (intrauterine insemination) will cost you 750 Euros and the price for AID (artificial insemination with donor) starts from 2,000 Euros. General costs for IVF are 3,000 Euros. IVF treatment with egg donation can cost 5,500 Euros, with embryo donation costing 6,500 Euros. The cost of treatment using own eggs and sperm donation is 4,250 Euros. If you are a female couple looking for ROPA, which is reciprocal IVF, then the cost will be 5,250 Euros. You can also opt for a Tandem IVF (your own oocytes + donor oocytes) at the cost of EUR 6,750.
Basic IVF packages cost at Pelargos IVF Medical Group
Intrauterine insemination (IUI)
€550
Artificial insemination with donor (AID)
€850
IVF with own eggs
€3,200
Egg donation IVF
€5,700
Embryo donation
€5,700
Egg freezing
€2,000
Sperm donation
€3,400
ROPA
N/A
Surrogacy
TBC
There is additional testing and treatment available, such as embryo monitoring and blastocyst culture, both of which will be included in the treatment package you require. However, if you wish for PGT-A/PGS genetic embryo testing the prices start at 2,000 Euros per embryo set which can be max. 15 embryos. The price depends on how many chromosomes are tested.
Cyprus IVF Hospital also has facilities available for you to have eggs, embryos and sperm frozen if you wish to undergo treatment at a later date. Egg freezing, which includes the egg collection procedure, and freezing for 1 year, will cost 1,500 Euros. If you need to have sperm frozen for a later date then this will cost 500 Euros, plus 250 Euros per year of storage. If you undergo treatment and there are embryos left over that are still viable then you can have these frozen for later use, if you wish to have more children in the future, vitrification of the remaining embryos and storage for 1 year will cost 500 Euros. The cost for FET (Frozen Embryo Transfer) is 1,500.
For those who are unable to carry a child, the clinic has a surrogacy program available, which has a Live Birth Guarantee Package available, done with a partner agency. The cost of this is 76,000 Euros.
IVF add-ons and other costs
Other IVF techniques costs at Pelargos IVF Medical Group
Medical consultation (doctor)
€80
Donor sperm
€300
Sperm freezing
€100
Embryo Monitoring (e.g. Embryoscope)
included in treatment price
Blastocyst culture
included in treatment price
PGT-A / PGS genetic embryo testing
€1,000
Embryo freezing and storage for 1 year
€400 (after a year €230/year)
FET - Frozen Embryo Transfer
€1,200
IVF Success Rates at Cyprus IVF Hospital
Success rates at Cyprus IVF Hospital are above average when compared with other clinics that perform the same treatments. All of the data below is from the year 2022 so are very up-to-date rates.
The average clinical pregnancy success rates per embryo transfer (covering all age groups) were:
With own eggs – 37%
With donor eggs – 74%.
The clinical pregnancy success rates for women undergoing IVF treatment with their own gametes, and undergoing IVF with ICSI, when broken down into age groups, are:
women aged 25-30 – 70%
women aged 30-35 – 62%
women aged 35-40 – 52%
women aged 40-45 – 32%
women aged 45-50 – 5%
women aged 50-55 – 1%.
The clinical pregnancy success rates for women undergoing IVF treatment with donor eggs when broken down into age groups were:
women aged 25-30 – 88%
women aged 30-35 – 84%
women aged 35-40 – 80%
women aged 40-45 – 71%
women aged 45-50 – 67%
women aged 50-55 – 55%.
The average success rates for a clinical pregnancy with donated embryos were 76% and per age as below:
women aged 25-30 – 90%
women aged 30-35 – 85%
women aged 35-40 – 81%
women aged 40-45 – 73%
women aged 45-50 – 68%
women aged 50-55 – 57%.
As you can see the clinic has very good success rates and is a clinic worth undergoing your treatment with.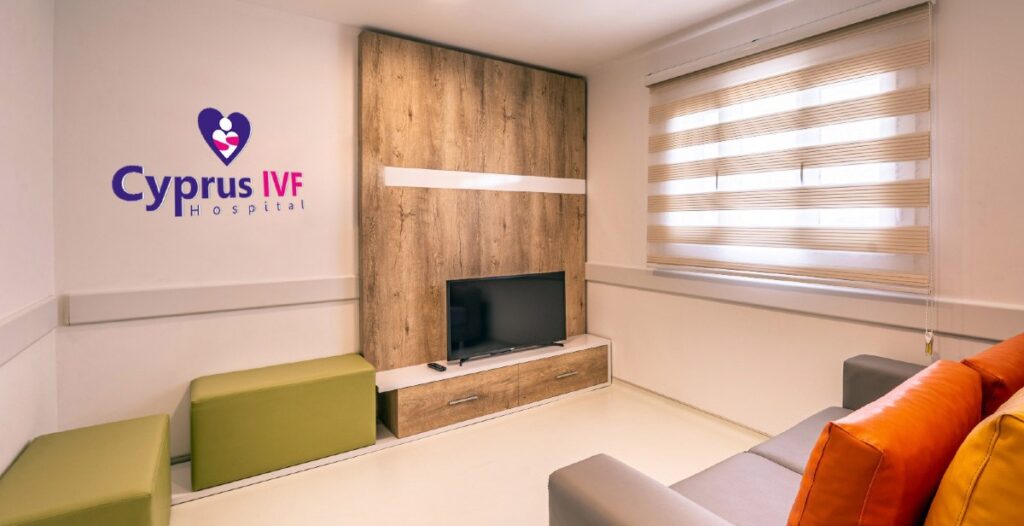 Cyprus IVF Hospital – Location
Cyprus IVF Hospital is located in the city of Famagusta, which is in the East of the country. The city is a beautiful town on the ocean, with beautiful views no matter where you are. It is the perfect city for history lovers as there is a lot of historical architecture available for you to visit, such as The Royal Palace and The Church of Saints Peter and Paul (now known as Sinan Pasha Mosque), to name a few.
The clinic is only a 5-minute drive from the city centre, so you are close enough to travel around the city with ease. When it comes to the airports the clinic is 30-45 minutes away depending on the airport you choose to fly into. The clinic offers free-of-charge transfers from the airports to the hotels and the clinic, so you need not worry about arranging your own transport. The clinic also has deals with local hotels so you may be able to have accommodation for cheaper than if you booked it yourself.
Choose Cyprus IVF Hospital as your clinic of choice to undergo IVF treatment and you can combine your treatment with a stay in a wonderful and beautiful city, giving you the experience of a lifetime.