IVF treatment availability at Gynem
IVF at Gynem Fertility Clinic Prague - restrictions
Woman maximum age
48
Single woman
Not allowed
Same sex female couples
Not allowed
HIV (female)
Allowed
HIV (male)
Allowed
HCV / HBV (female)
Not allowed
HCV / HBV (male)
Not allowed
About Gynem
Gynem Fertility Clinic was founded in 2009 and is located in Prague. The clinic has a very unique charm about it, owing to the fact that it was founded by a father and son duo, both of whom are doctors, Dr. Milan Mrázek and Dr. Martin Mrázek.
The clinic was purpose-built specifically for treatment of infertility and has been designed with that express purpose in mind. On the outside, you will be greeted by a very modern building with a very clean exterior. Inside the colours of choice are light colours such as grey and white, which will give you a sense of calm and ease. The clinic has 1 laboratory, 1 theatre, and their recovery room is able to accommodate 6 patients, with full privacy guaranteed.
The equipment and facilities inside the clinic are all state-of-the-art and they use only the latest in ART (Assisted Reproductive Technology). Thanks to the equipment and techniques that they use, they are able to avoid any possible complications that may arise during your treatment, and treat you to the fullest extent of their capabilities.
When undergoing treatment with Gynem they will see you as someone to be treated with warmth, and respect, and offer you support in any way they can. As part of this you will be assigned a personal coordinator who will assist you in everything from booking flights, as well as hotels and transport between the airport and clinic. This coordinator will be there for you every step of the way and will be able to answer all of your questions and assuage any fears you may have. A personal touch such as this shows they have your safety and comfort in mind.
As further proof of the personal touch, one of the founders of the clinic Dr. Martin Mrázek also founded a medical tourism company a year after the clinic, in 2010. This company is called Medical Travel and their goal is to provide you with access to high-quality and affordable health care, and because some of their coordinators work double duty in both teams, as they operate in the same building, there is a chance that Medical Travel will be helping you with your journey. You won't ever need to worry about language being a barrier as staff at Gynem and Medical Travel specialise in dealing with international patients, so speak multiple languages such as:
English
German
French
Italian
Serbian
Spanish
Russian
Czech, although this one goes without saying.
As part of IVF treatment patients can sometimes require donor eggs, sperm or embryos. When this is the case you will want to be sure that the donations you receive are only the very best, to give you the highest chances of success. The requirements for donors can be quite strict, but with Gynem they are a little stricter than most. The age limit for donors is a little lower, with their maximum donor age being 33, instead of the more common 35. This way the eggs will be younger and the women more fertile, giving a higher chance of success that the eggs will result in a successful pregnancy.
As well as the lower maximum age the clinic also performs thorough testing on the donors, to ensure they are fit and healthy. Their thoroughness includes:
Genetic and disease testing. They perform comprehensive tests of the donors to ensure that there are no genetic issues that will cause developmental problems, as well as making sure they have no infectious diseases that will also have a negative impact.
Family history. Looking at a person's family history and any illnesses or diseases their family has endured lets them build a picture of any issues that could affect the eggs during the development process. Ensuring there is no family history of illness allows you to be safe in the knowledge that the eggs will be very healthy.
When choosing the donor they look at matching the donors with you as closely as possible, so that when your baby is born and growing up they will look like you, as though you used your own eggs.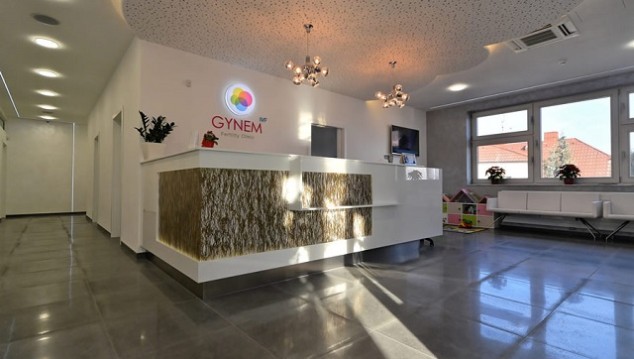 Experience and Medical Staff at Gynem
The Director of the clinic is Dr. Milan Mrázek, who runs it with his son Dr. Martin Mrázek. Dr. Milan Mrázek has an absolute wealth of experience, having been an Obstetrics and Gynaecology specialist for over 37 years, while he has worked specifically in assisted reproduction for over 24 years. With his wealth of experience, he knows what he is doing when it comes to making your dreams of parenthood come true.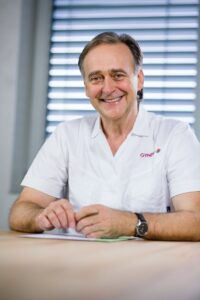 The clinic has a total of 6 doctors and 6 embryologists. One of the embryologists, Dr. Tomás Rieger, has over 10 years of experience working in an embryology laboratory and is ESHRE certified (European Society for Human Reproduction and Embryology). The rest of the staff at the clinic includes nurses, international coordinators and more. As we said above the international coordinators work specifically with patients from outside of the Czech Republic and speak multiple languages. You can feel safe and confident with the staff, knowing you will be able to communicate and trust in their skills and abilities.
IVF Costs at Gynem
The costs for treatment at Gynem Fertility Clinic that you will see below are just the standard costs for specific treatments. As you may require a more personalised treatment plan the final costs may vary, but you will discuss this with your doctor. The one thing you will notice about the prices is that they are quite competitive when compared with other clinics. The first medical consultation with the clinic will be free.
The most basic treatment IUI (intrauterine insemination) is available at the price of 550 Euros; and intrauterine insemination with donor sperm costs 950 Euros. IVF treatment with own eggs starts from 2,700 Euros, although if you require IVF with egg donation it will cost between 4,800 and 5,700 Euros. If you require embryo donation this starts from 1,900 Euros, with sperm donation costing from 2,950 and donor sperm being from 250 Euros. The clinic is also able to offer surrogacy as a viable option, thanks to the surrogacy laws in the Czech Republic, and this will cost 1,500 Euros.
Basic IVF packages cost at Gynem Fertility Clinic Prague
Intrauterine insemination (IUI)
€550
Artificial insemination with donor (AID)
€950
IVF with own eggs
€2,700
Egg donation IVF
€4,800 - €5,700
Embryo donation
€1,900 - €3,100
Egg freezing
€1,600
Sperm donation
from €2,950
ROPA
N/A
Surrogacy
€1,500
IVF add ons and other costs
Other IVF techniques costs at Gynem Fertility Clinic Prague
Medical consultation (doctor)
free
Donor sperm
from €250
Sperm freezing
€350
Embryo Monitoring (e.g. Embryoscope)
€500
Blastocyst culture
included in the program price
PGT-A / PGS genetic embryo testing
€300/embryo
Embryo freezing and storage for 1 year
€500
FET - Frozen Embryo Transfer
€900
Additional treatment such as embryo monitoring will cost 500 Euros, whereas blastocyst culture will be included with your treatment. You will also have the option for additional embryo testing called PGT-A/PGS genetic testing, which tests the embryos prior to implantation to see if there are any genetic defects or abnormalities that could affect development. This test will cost 300 Euros for 1 embryo.
One option that many young couples like to go for is the freezing of sperm and eggs, because they don't want a child right now but may want one in the future. The cost of sperm freezing starts from 350 Euros, and egg freezing is 1,600 Euros. For those undergoing treatment using embryos, you are able to freeze any embryos that are unused in your treatment, if you wish to undergo treatment again in the future. Vitrification of your remaining embryos and 1 year of storage will cost 500 Euros. If you wish to have the frozen embryos implanted you will undergo FET (frozen embryo transfer), which will cost 900 Euros, therefore affordable.
IVF Success Rates at Gynem
The success rates for Gynem Fertility Clinic are slightly above average. Every year they perform an average of 300 IVF cycles using a patient's own eggs and an average of 400 IVF cycles using donor eggs. All of the rates below are from 2020 and based on clinical pregnancy.
The success rates are:
IVF using donor eggs – 63%
IVF using own eggs – 45%.
If we break down the success rates for IVF using a patient's own eggs into age groups, the rates are as follows:
women under 35 – 45%
women aged 35-40 – 35%
women over 40 – 25%
Looking at the success rates for frozen donor eggs and fresh donor eggs we can see that fresh donor eggs saw a slightly higher success rate:
Fresh donor eggs – 63%
Frozen donor eggs – 52%
Treatment is also available using frozen embryos or donor embryos, of which the success rates are:
Frozen embryos – 56%
Donor embryos – 52%
As you can see the clinic achieves slightly above average success rates when compared with other clinics in Europe.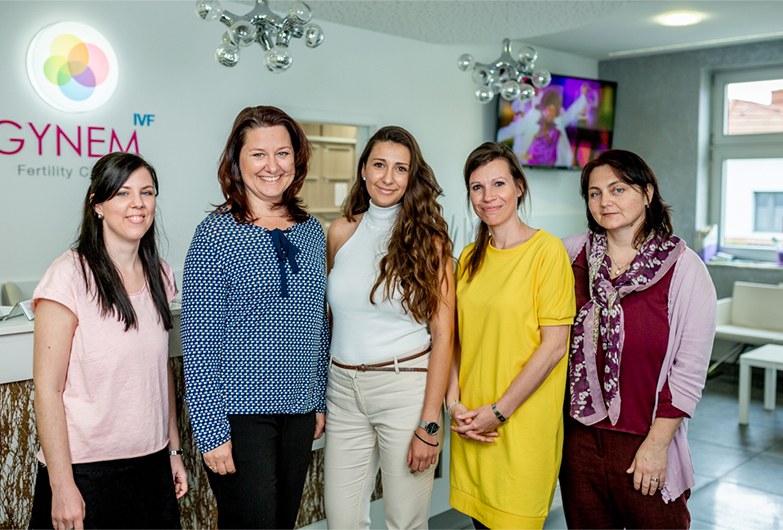 Gynem – Location
Located only 15 minutes from the city centre, Gynem Fertility Clinic is in Prague, Czech Republic. Prague is a beautiful European city that has been the inspiration for many Disney films, as well as many historical shows that have used the beautiful architecture for inspiration. With lots of things to see and do, including museums, historical sites and more, you will always be entertained by the city, no matter which part you are in.
The city is very easily accessible from all of Europe, as there are multiple ways to get there, and once you are there you will find travel around the city comfortable as well, thanks to its trams and subway system. You will be able to combine your treatment with a wonderful holiday in one of the most beautiful European cities.