IVF treatment availability at Repromeda
IVF at Repromeda - restrictions
Woman maximum age
49
Single woman
Not allowed
Same sex female couples
Not allowed
HIV (female)
Allowed
HIV (male)
Allowed
HCV / HBV (female)
Allowed
HCV / HBV (male)
Allowed
About Repromeda
Repromeda is located in Brno, a city in the Czech Republic, and was founded in 1999 by Dr. Jan Veselý, CSc. and Dr. Kateřina Veselá, Ph.D. They also have a clinic in Ostrava, which is also in the Czech Republic. The goal of the clinic is to assist people who wish to be parents, by providing fertility treatment in order to bring children into the world. Thanks to their expertise and assistance over 5,000 babies have been born.
The main clinic in Brno is situated in a modern building that has a sleek and elegant design that gives it a futuristic look. Inside you will find light and warm colours everywhere, that have been proven to evoke a sense of calm and ease within people. Much like the outside, the inside is sleek and elegant, allowing you to see how stylish and clean everything is. There are some excellent views when looking out of the window as well, due to the clinic overlooking a valley that is sure to make you smile. Whilst you are there you will be treated to relaxing music, comfortable chairs and the smell of freshly-ground coffee, which should provide an experience that will make you feel right at home.
The clinic is outfitted with the latest technology and equipment and each room can truly be called state-of-the-art. With four laboratories, two transfer rooms and an operating theatre, the clinic is well-equipped for your treatment and has been designed for maximum efficiency. Once your treatment is over and you need to recover, you will do so in one of their ensuite rooms.
There are many reasons as to why you should choose Repromeda:
The staff at Repromeda have countless years of experience and they are considered to be experts in their field.
When you go to the clinic for your treatment your dream of having children is shared by the staff, and they feel compassion and empathy for the journey you are going through. As such they are motivated to do the very best that they can do so that you can walk away happy and expecting.
State-of-the-art. With any form of medical treatment the newest and best technology and treatment techniques can offer you the highest chances of success, thanks to how medicine advances. The clinic ensures they are up-to-date with all of this and can offer you the very best in ART (Assisted Reproductive Technology) and techniques.
Individual treatment. When it comes to treating infertility problems each person is unique and as such they require different treatment techniques. Even if two people require the same type of treatment they can benefit from different techniques being applied, for their case. As such each treatment plan is designed with this in mind, to ensure that you receive the treatment you really need.
The clinic is ISO 9001:2008 and ISO 15189:2012 certified.
If you need more reasons to choose Repromeda then let us tell you about some of their accomplishments over the years:
2000 – They were the first clinic to successfully use the FISH technique with PGD (Preimplantation Genetic Diagnosis) and complete a cycle in all of Eastern and Central Europe.
2004 – They were the first clinic to use the FISH technique to introduce diagnosis of translocation in Eastern and Central Europe.
2014 – They were the first clinic to use the Karyomapping method when it comes to PGD and the diagnosis of monogenic diseases in Central Europe.
2017 – They developed the PANDA (Panel Diagnostic Analysis) test for reproductive genetic compatibility.
This is only a small part of their history and they are responsible for even more, but this should show you why they are a great clinic with which to trust your care.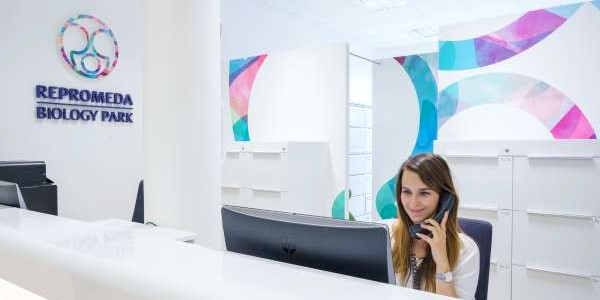 Repromeda Experience and Medical Staff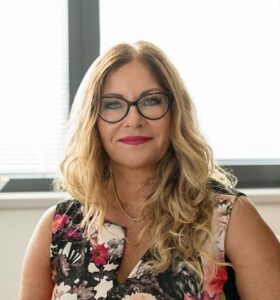 Repromeda was founded and is owned by Dr. Jan Veselý, CSc. and Dr. Kateřina Veselá, Ph.D. Not only are they the founders and owners, but they are both specialists in reproductive gynaecology with over 25 years of experience each.
Backing both of them up is a large team of 70 including six doctors and six embryologists. Included in this large staff is a team of eight clinicians, three of whom are geneticists and five who are gynaecologists. The clinic also employs two ESHRE accredited senior embryologists who have over 15 years of experience.
Thanks to their large staff and experience in dealing with international patients they have a team of patient coordinators whose job is to support all patients from outside of the country and ensure that they have all of the information that they need, as well as supporting them with translation. With this team you can expect to speak to someone who will speak your language as there are multiple languages spoken at the clinic such as English, Czech, Italian, Polish, German, Ukrainian, French, Slovakian and Russian.
The clinic has a total of 6 doctors and 6 embryologists. One of the embryologists, Dr. Tomás Rieger, has over 10 years of experience working in an embryology laboratory and is ESHRE certified (European Society for Human Reproduction and Embryology). The rest of the staff at the clinic includes nurses, international coordinators and more. As we said above the international coordinators work specifically with patients from outside of the Czech Republic and speak multiple languages. You can feel safe and confident with the staff, knowing you will be able to communicate and trust in their skills and abilities.
IVF Costs at Repromeda
The cost of treatment at Repromeda will vary depending on what treatments you need, what add-ons you wish to have, as well as whether you choose to purchase one of their packages. The full cost of your treatment will be discussed with you by your doctor when you talk about which treatment you will undergo.
The clinic has IVF packages available and these start from as low as 3,000 Euros and go as high as 9,000 Euros, and the price you pay depends on which package you choose, with the higher-priced packages containing more. Whichever package you choose to have you will be expected to pay 80 Euros for your initial consultation and 40 Euros for a spermiogram. The lowest priced package is IVF with ICSI (Intracytoplasmic Sperm Injection) and this is for 3,000 Euros. You can also have IVF with ICSI and have PGT-A testing included, and this takes the cost to 5,200 Euros. Next the clinic has two packages that are called IVF Spermpacket for 3,360 Euros, and IVF Spermpacket including PGT-A testing for 5,560 Euros. If you wish to have an all-inclusive package then they have this available at a higher price, the first package is IVF All-Inclusive for 6,800 Euros, and IVF All-Inclusive including PGT-A testing for 9,000 Euros.
If you need to undergo treatment using egg donation then there are also packages available for you, ranging from 4,780 Euros to 11,160 Euros, with an additional cost of 400 Euros if you need to use donor sperm for IVF/ICSI. The first package is their basic OD (Oocyte Donation) Easy package for 4,780 Euros. Just like with the IVF packages you have the option of having the package with PGT-A testing as well, so you can go for OD Easy including PGT-A testing for 6,580 Euros. The OD Select package will cost 6,180 Euros, while OD Select including PGT-A testing will cost 7,980 Euros. With the egg donation packages there is also an all-inclusive package available to you, and this is called OD All-Inclusive including PGT-A testing and will cost 11,160 Euros.
Basic IVF packages cost at Repromeda
Intrauterine insemination (IUI)
€550
Artificial insemination with donor (AID)
€950
IVF with own eggs
€2,700
Egg donation IVF
€4,800 - €5,700
Embryo donation
€1,900 - €3,100
Egg freezing
€1,600
Sperm donation
from €2,950
ROPA
N/A
Surrogacy
€1,500
IVF Add-ons and Other Costs
Other IVF techniques costs at Repromeda
Medical consultation (doctor)
free
Donor sperm
from €250
Sperm freezing
€350
Embryo Monitoring (e.g. Embryoscope)
€500
Blastocyst culture
included in the program price
PGT-A / PGS genetic embryo testing
€300/embryo
Embryo freezing and storage for 1 year
€500
FET - Frozen Embryo Transfer
€900
A lot of patients like to include add-ons with their treatment, and often this includes extra testing. Repromeda has a lot of options available should you wish to discuss them with your doctor, and come with an additional cost. Karyotype testing will cost 250 Euros. There are two PANDA tests available, PANDA Infertility for 400 Euros, and PANDA Carrier for 600 Euros. PGT-A of aneuploidy NGS will cost 2,200 Euros and is for up to eight embryos. PGT-SR of translocation NGS or karyomapping will cost 2,560 Euros and is for up to eight embryos. PGT-M for single gene defects karyomapping or one gene PGT will cost 3,560 Euros and is for up to five embryos and three reference samples. Embryoscreen will cost 1,960 Euros.
There are also additional methods that the clinic performs that can help with your treatment or be used for when you wish to have children in the future, through cryopreservation. Embryoglue will cost 240 Euros, MOON (Mature Oocytes Only) will cost 360 Euros, EndomeTRIO will cost 1,400 Euros, and beREADY will cost 596 Euros.
As stated above you can also undergo cryopreservation, which is where you can have embryos, oocytes or sperm frozen for a period of time, in case you wish to undergo treatment in the future but preserve your fertility now. Cryopreservation for up to one to two embryos will cost 300 Euros, whilst cryopreservation for up to eight embryos will cost 400 Euros. If you wish to have semen preserved using cryopreservation this will cost 192 Euros, and this includes storage for one year as well as serology. Storage in the cryobank for oocytes, embryos and sperm will cost 120 Euros for one year. If you wish to undergo FET (Frozen Embryo Transfer) then this will cost 340 Euros.
Other costs with the clinic include artificial insemination for 180 Euros if you use your partner's sperm, this is known as IUI (Intrauterine Insemination), or AID (Artificial Insemination with Donor) for 580 Euros. Donor sperm for treatment will cost 240 Euros. You can also undergo treatment outside of the packages, with IVF costing 2,400 Euros, treatment using egg donation costing 4,900 Euros, and sperm donation treatment costing 2,640 Euros. You can also opt for additional PGT-A/PGS testing for a cost of 2,000 Euros.
IVF Success Rates at Repromeda
The following success rates for Repromeda are from the year 2022 and are based on achieving a clinical pregnancy, where the foetus can be seen or heard. They are also based on the clinic performing an average of 672 IVF cycles with a patient's own eggs and an average of 179 IVF cycles using donor eggs. Their IVF overall success rate is 58.4%. The success rate for fresh donor eggs is 61% and for frozen eggs is 56%.
As you can see the clinic has success rates that are above average when compared with other fertility clinics around Europe.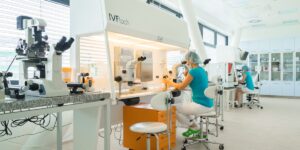 Repromeda Location
Repromeda is located in Brno, the second largest city in the Czech Republic. The clinic is only 15 minutes away from the city centre when travelling by car, taxi or public transport. Thanks to its proximity to the city centre it will be easy to get to and from, as well as allowing you to experience the city while you are there. If you fly to the country you will have your pick of which airport to fly to as Brno has an airport of its own, as well as being 140 km from Bratislava airport, 190 km from Vienna airport, and 220 km from the airport in Prague. If you happen to be undergoing egg donation treatment and pick one of the more advanced packages you will have airport pick-up included in the cost, so there will be one less thing for you to think about. The clinic also has deals with local hotels so that they can help you save money on your accommodation while you are undergoing treatment, and these hotels are all between five and fifteen minutes away from the clinic.
Being in the Czech Republic, Brno has a style of architecture that is both beautiful to look at but functional at the same time. Whilst it is the second largest city in the country it is something of an undiscovered gem as tourists tend to prefer to visit cities such as Prague and Vienna. Thanks to this you will have a much easier time walking around and visiting places in the city, because there won't be tourists everywhere. This makes it a perfect place to go for your treatment, as there are some beautiful places to visit, such as the Cathedral of St. Peter and Paul, the Spilberk Castle, caves, museums and more. If you choose to combine your treatment with a sightseeing tour of the city you are sure to have a wonderful time.