Let's meet Stéphanie and Joël – a couple from Canada selected by UR Vistahermosa to participate in the 2022 Fertility Journeys Project.
---
Updated, 19th of October, 2022
Since Fertility Road last spoke to Stéphanie and Joël, there have been some big steps forward in the couple's fertility journey with Spanish clinic UR Vistahermosa.
Since the doctor increased Stéphanie's oestrogen medication, her uterine lining thickened to 8.5mm, meaning it is now ready for transfer.
The couple's egg donor underwent egg collection on Friday (October 14th) resulting in eight mature eggs, six of which were successfully fertilised. Stéphanie started a course of progesterone vaginal pessaries, using 800mg daily, to prepare her body for embryo transfer, which is scheduled for tomorrow morning (Wednesday, October 19th).
Stéphanie and Joël greeted the news of the fertilisation with cautious optimism.
Stéphanie explains: "We were excited, but we don't want to get too excited because based on my previous experience, we know that sometimes the resulting embryos or blastocyst is sometimes lower than the number of fertilised eggs.
"We are however hopeful, considering she's considerably younger than I am, that we'll have at least several good grade embryos. I guess we'll know tomorrow how many good-quality embryos we have. And obviously we hope that the transfer goes well."
Once again, the couple were full of praise for their doctor and the team at UR Vistahermosa.
Stéphanie said: "She's a great doctor. She's very attentive, she's warm, she's comforting.
Sometimes fertility doctors are more methodical. But she was very human and we just feel good with her.
"During the ultrasound the doctor mentioned that my endometrium had a very good shape and showed us the ultrasound screen to explain what she meant.
Stéphanie added: "We're nervous but also we're hopeful and like we said, we feel good about our being taken care of by UR Vistahermosa. So we have a good feeling about the whole process."
Joël added: "Based on our previous experiences, we're nervous and we just hope it's going to be positive."
---
Updated, 10th of October, 2022
Stéphanie and Joël returned to UR Vistahermosa on Monday (October 10th) where doctors measured Stéphanie's endometrial lining.
She said: "I'm not there yet. It's 6.5 millimetres and I believe they want it to be at least 7.5 to eight millimetres.
"We got news of the donor and it (egg collection) will be at the end of this week, like Thursday, Friday or Saturday. So it still gives me until Thursday to get my lining to that."
Doctors are increasing Stephanie's oestrogen medication to 10 milligrammes per day to help the process along.
Although Stéphanie is anxious whether her lining will meet the required thickness by Thursday, she has been reassured by the doctor at UR Vistahermosa that everything is progressing as it should.
Stéphanie said: "I was kind of worried and asked them what happens if I don't get there by Thursday. And the doctor reassured me saying 'I'm not too worried that you'll be where you need to be'.
"Whereas Marta was there as a translator and she said, well, in the worst worst worst case scenario, we'll freeze the embryos.
"It's still okay, just like we did all the synchronisation for maybe nothing, but it would not be the end of the world in terms of results. "I always like to know the worst-case scenario just to be mentally prepared."
Joël said: "I don't have much to do but I'm happy that things went well.

"The doctor was really nice and she seemed positive, there was nothing too alarming or anything. So they think we're on the right track. And things will be fine."
The couple will return to the clinic on Thursday. The donor's egg collection is due to take place later this week.
---
Updated, 3rd of October, 2022
A six-hour flight from Montreal to the sunnier climes of Alicante was the first step in Stéphanie Gagnon and Joël Nadeau's journey with UR Vistahermosa.
Still feeling slightly jet-lagged, the couple went for their first in-person appointment at the Spanish fertility clinic UR Vistahermosa on Tuesday (September 27th).
With the help of Marta, the director of the international department, the doctor discussed with the couple all the medication that Stéphanie would need to take ahead of her embryo transfer using a donor egg.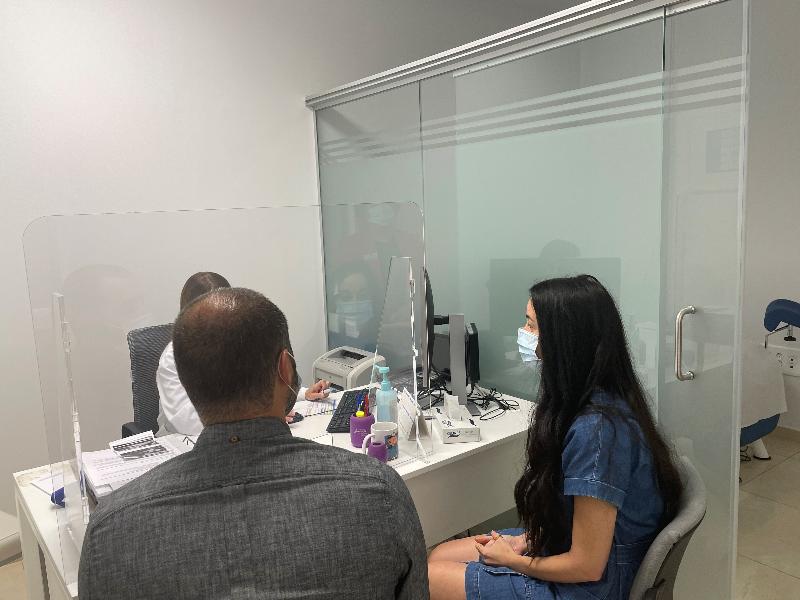 Stéphanie said: "For the first round of medication, the oestrogen I need to take as soon as I get my period is for 12 weeks. I'm also taking an anticoagulant because with the oestrogen there's a higher risk of having thrombosis. So those are the injections that Joël will be giving me and the nurse actually showed us how to give the injections. The injections are also for quite some time, about 12 weeks too. And finally, we are also on prednisolone, which is basically to suppress your immune system, from what I understand."
Stéphanie and Joël struggled with infertility and Stéphanie suffered two miscarriages before they began to explore fertility treatment in their native Canada.
She explains: "We started to undergo fertility treatment and in the midst of the tests that we were doing, I got pregnant. So, it was good news because I finally didn't need fertility treatments.
"But we had been trying for two years. We were at that point where we were wondering if there was something wrong, especially with the miscarriages, but then since I finally got pregnant naturally, we thought that's it."
Stéphanie gave birth to their beloved son Tristan, affectionately nicknamed Peanut, in September 2021. Unfortunately, one month later, Tristan was diagnosed with a rare and incurable type of severe epilepsy called early infantile epileptic encephalopathy. Sadly, Tristan passed away in January this year.
Stéphanie continued: "I suffered another miscarriage after Tristan and then we decided to do IVF and we didn't get any good quality embryos from that one cycle.
"So, it was really hard for me, not so much physically but emotionally because when you take all those hormones, the hormone crash after was very difficult especially that, while I'm still grieving today, I was grieving a lot more back then."
The treatment resulted in 10 eggs, but only three fertilised. Two of these made it to day five blastocyst, but regressed on day six.
It was at this stage that the doctor back in Canada raised concerns about Stéphanie's egg quality.
Stéphanie said: "He's like 'you could try again and again but odds are your eggs are the issue'.
"I didn't really want to undertake more ovarian stimulation knowing that the odds of having good eggs was so low, so that's the reason we only did one IVF cycle."
The couple were suddenly faced with a new reality, that they would likely need an egg donor to conceive.
Stéphanie said: "Me and Joël had very different reactions to it. I was actually very open to it, just because I was at a stage where I was sure I didn't want to try IVF with my eggs again, because it was really difficult. And, I just wanted a healthy baby, especially with what happened with Tristan."
Joël added: "It was just the abrupt news that all of a sudden, the eggs are not good.
"It maybe took me more time to process that information to realise that it was that quick turn or change."
He added: "It's not the DNA part of it. I never thought 'I'm so great that my DNA has to be passed on'. I think we put a lot of emphasis, in many cultures, on 'my' bloodline. But at the end of the day, we're all the same."
Stéphanie, 38, said: "I hope all goes well with the donor, a lot of it relies on the success of her stimulation."

"I'm stressed a bit about the transfer because, you know, we have high expectations because they're eggs of a 23-year-old, but I'm prepared that the first transfer might not be successful.
"It's not guaranteed, it's not 100%, so I'm also mentally ready to have to come back for a second transfer if need be. But at the same time, we hope it works the first time. "We have a good feeling. Had a good feeling from day one."
The couple says they have confidence in their clinic UR Vistahermosa, with 40-year-old Joël adding: "We feel like they're taking charge and they're taking care of us."
Stéphanie added: "I feel confident, and UR Vistahermosa was very well organised. We went to a 'top' fertility clinic in Canada and it was not nearly as organised.
On October 4th, UR Vistahermosa will take a sperm sample from Joël for testing. This can also be used as a 'plan B' if Joël is sick or suddenly unable to attend the clinic on the day the eggs are due to be fertilised. Stéphanie went through a number of invasive tests back in Canada which do not need to be repeated.
The couple's next appointment at UR Vistahermosa is on October 10th, when the doctor will check the thickness of Stéphanie's endometrial lining and make adjustments to her oestrogen medication accordingly.
If all goes well, the embryo transfer should take place in the middle of October before
Stéphanie and Joël return home.