IVF treatment availability at UR Vistahermosa
IVF at UR Vistahermosa - restrictions
Woman maximum age
50
Single woman
Allowed
Same sex female couples
Allowed
HIV (female)
Allowed
HIV (male)
Allowed
HCV / HBV (female)
Allowed
HCV / HBV (male)
Allowed
About UR Vistahermosa
UR Vistahermosa is a private fertility clinic located in Alicante, Spain, and was founded in 1983. They are located within the HLA Vistahermosa hospital, so they have easy access to a whole host of other medical services and specialities; they even have their own genetics unit on site. All in all, there are 4 laboratories and 8 theatres, along with many recovery rooms that they have. The clinic itself is clean and has light colours of blue and white, that blend well together to give you a sense of ease and calm, with blue, in particular, being a very calming colour. It works well with the clinic too, as they are very close to the sea, which is very calming to look at.
Statistics show that out of all the IVF treatments that are performed in Europe, 40% are performed in Spain, totalling about 11,000 IVF treatments. Of the patients seeking fertility treatment in Spain, 60% are international, meaning they have come from outside of Spain for their treatment. Because of this, UR Vistahermosa has their own international department that has been put in place to specifically deal with international patients.
They understand that travelling to another country can be an arduous process, so as part of their international department, they have patient coordinators, who will accompany the person they are assigned to on every step of the process. This specially assigned coordinator will be there for you to answer any questions you may have when it comes to your treatment and will be monitoring your progress, to ensure that everything is always going well. This is so you can feel safe, secure and looked after, knowing that you have people to take care of you and talk to you can be a heavy burden off your shoulders, allowing you to relax. Because they deal with a lot of international patients they can offer their services in many languages, to ensure that you always understand, and are always understood.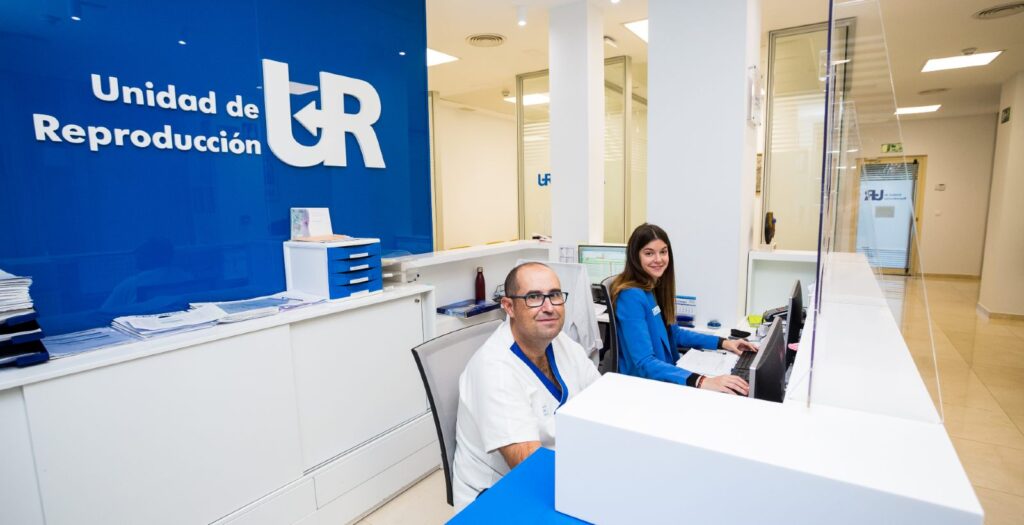 UR Vistahermosa offers their services to women, regardless of their current marital status. Whether you are married to a man or a woman, unmarried but with a partner, or single, you can have fertility treatment at the clinic as there are options available to you. For female-only couples, there is a technique available called ROPA, which is Reciprocal IVF, whereby one mother supplies the eggs and the other mother carries the baby to term. This way both mothers will feel like they are part of the process and can look forward to the day their beautiful baby arrives.
It is not just younger patients that the clinic treats either, as they have treatment available for women who are over 35 years of age. There are even special treatment options available for those of advanced maternal age, who may have low ovarian reserve and premature or natural menopause. This treatment is called the Ovarian Rejuvenation Program, also known as Platelet-Rich Plasma Therapy (PRP). What the treatment involves is injecting plasma, which has been enriched with platelets and growth factors, into your ovary, which can improve the function, and give you a better chance of achieving a successful pregnancy.
When it comes to their treatment and quality of care, they believe in offering only the best, and continuously invest in new treatments, new techniques, and new equipment, all designed to give you the best chances of achieving a successful pregnancy. In fact, they are one of the few international clinics that have implemented the Time Lapse embryo monitoring system, which has been designed to monitor embryo development on an even closer and more reliable level without any external interference. Another one of the services they offer is PGD, which is Preimplantation Genetic Diagnosis, which allows them to look at the embryos to determine whether or not there are any genetic diseases, or defects, that will affect their development, ensuring that only the healthiest embryos will be implanted.
Around 10-15% of patients undergoing IVF are affected by recurrent implantation failure (RIF). Patients with RID diagnosis are most welcome at the clinic as UR Vistahermosa specialists have gained an excellent reputation for their expertise in treating RIF patients. If you think recurrent implantation failure may be affecting you, you may want to read "Understanding Recurrent Implantation Failure – FAQ."
Couples dealing with different types of male infertility, such as abnormal sperm production, blockages in the reproductive tract, hormonal imbalances, genetic disorders, or lifestyle factors, can also find help at UR Vistahermosa. Read more here IVF for Couples Dealing with Male Factor Infertility – FAQ.
Due to the promotion of safety, quality and excellence, UR Vistahermosa has been on the receiving end of multiple accreditations and certificates, all of which show that the clinic has a true commitment to providing high-quality care. Some of these are ISO 9001:2008, ISO 14001, Spanish External Quality Control Programme for Semen Analysis (CEIFER), and the National External Quality Control Programme of Assisted Reproduction Laboratories (CEIFER).
UR Vistahermosa Experience and Medical Staff
The clinic of UR Vistahermosa has 6 doctors and 7 embryologists, 3 of whom are ESHRE certified. ESHRE is the European Society of Human Reproduction and Embryology, and they only certify the best embryologists in Europe, so you know you will be in safe hands.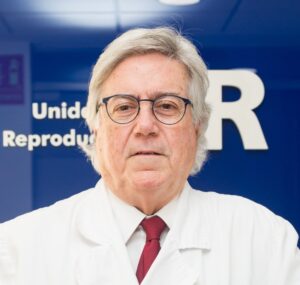 The Director of the reproduction unit is Dr. Jose Jesus Lopez Galvez, a doctor with over 40 years of experience when it comes to reproductive medicine, which is a lot of experience and a lot of knowledge that you can rely on. Dr. Galvez is a very highly regarded reproductive specialist and he developed an embryo training programme, the virtual human micro-injection simulator, which was designed to ensure that the specialists who train with it will have top-notch skills.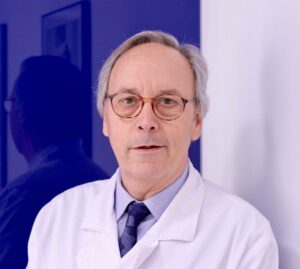 One thing that allows the clinic to stand out from the rest in Alicante is that they have the only genetic unit in the entire city. This is headed up by Dr. Joaquin Rueda, who, just like Dr. Galvez, has an absolute wealth of experience in his field of clinical genetics. He heads up a team of fully qualified and experienced geneticists whose job it is to help diagnose any hereditary diseases there may be, as well as provide counselling on genetics.
If you are a patient from the UK, you will likely come into contact with Ema J. Locker, who is the UK Patient Manager and has worked around fertility treatment for over 18 years. Her job will be to assist you and aid in getting your IVF journey started, with help ranging from airline booking to helping you find a hotel to stay in during your treatment, as well as medication. Thanks to this assistance you will never feel alone on your IVF journey.
IVF Costs at UR Vistahermosa
Before we get into the treatment costs, we should mention that UR Vistahermosa has financing plans available, so if you feel you are unable to pay everything at once you can come up with a tailor-made plan with the clinic, so that you can pay the cost over a period of time, even up to 60 months, which is 5 years. The financing plans have no interest at all, and you can discuss them with the clinic at the time of your first visit.
When it comes to IVF costs at UR Vistahermosa the prices can vary depending on the exact treatment. If you opt for IUI (intrauterine insemination), this will cost you €850 and for AID (artificial insemination with donor) you will pay €1,200. IVF using your own eggs along with the use of an Embryoscope/GERI and ICSI is 4,900 Euros. IVF with PGT-A (Preimplantation Genetic Testing for Aneuploidies) will cost 7,650 Euros. When it comes to egg donation treatments, IVF with fresh donor eggs is 7,450 Euros, and IVF with frozen donor eggs is 6,200 Euros. Donor sperm costs 400 Euros. The clinic also offers non-invasive PGT (Secure Select) to go with your IVF with own eggs cycle. Embryo donation costs 3,250 Euros.
You may want to read the article on how non-invasive PGT-A can help with your IVF success written by Dr Elisa Moya, an embryologist at UR Vistahermosa in Alicante, Spain.
If you are a lesbian couple, you can undergo ROPA, which costs 5,300 Euros. Treatment with sperm donation costs 5,300 Euros. You are also able to pay for embryo monitoring, which costs 350 Euros. If you wish to have your embryos tested via PGT-A/PGS, this will cost 3,650 Euros per cycle.
UR Vistahermosa also offers Double Stimulation Protocols also known as DuoStim, which involves administering two courses of ovarian stimulation drugs within the same menstrual cycle. To find out more you may want to read "Double Stimulation IVF Protocols Explained – When, How, If."
The clinic also has options available for freezing eggs and embryos. The cost for freezing eggs is 4,900 Euros, whilst vitrification and storage for the remaining embryos is 920 Euros for 1 year, and surplus embryo freezing is 520 Euros. If you wish to undergo FET, which is Frozen Embryo Transfer, this will cost 1,200 Euros.
Basic IVF packages cost at UR Vistahermosa
Intrauterine insemination (IUI)
€850
Artificial insemination with donor (AID)
€1,200
IVF with own eggs
€4,900
Egg donation IVF
€6,200 - €7,450
Embryo donation
from €3,250
Egg freezing
€4,900
Sperm donation
from €5,300
ROPA
€5,300
Surrogacy
N/A
IVF Add-ons and Other Costs
Other IVF techniques costs at UR Vistahermosa
Medical consultation (doctor)
free
Donor sperm
from €400
Sperm freezing
free if included in treatment
Embryo Monitoring (e.g. Embryoscope)
€350
Blastocyst culture
price included in treatment
PGT-A / PGS genetic embryo testing
€3,650
Embryo freezing and storage for 1 year
€920
FET - Frozen Embryo Transfer
€1,200
UR Vistahermosa also has 2 refund packages available, that will offer you a refund of 100% in the case where no live birth occurs. This way you will know that if you do not have the baby of your dreams, you will pay nothing at all.
Refund with IVF/ICSI for patients under 39 – 15,000 Euros
Refund with egg donation for patients under 49 – 16,500 Euros.
Interested in other IVF add-ons? You may want to read about Endometrial Scratching in IVF – When, How, If and Prospective Outcomes Explained. 
IVF Refund Guarantee Package
Refund Package (Money back guarantee):
Refunding Guarantee Program (patients under 39) - 15000 EUR
Refund is guaranteed if the program does not end with the desired result.
Program qualification is necessary. Please ask the clinic for details.
Refunding Guarantee Program (patients under 49) - 16500 EUR
Refund is guaranteed if the program does not end with the desired result.
Program qualification is necessary. Please ask the clinic for details.
IVF Success Rates at UR Vistahermosa
When it comes to success rates, UR Vistahermosa sees above-average results when compared with other fertility clinics in Europe. The clinic performs an average of 400 IVF cycles per year using the patient's own eggs, and an average of 500 IVF cycles per year, using donor eggs.
Success rates in 2021 were:
with fresh donor eggs – 72%
with frozen donor eggs – 52%.
The success rates in 2021, which are based on clinical pregnancy, were 72% for treatment with egg donation, and 49% when using patient's own eggs. If we break down the success rate, for IVF treatment using patient's own eggs, into age groups, the rates are as follows:
women under 35 – 61%
women aged 35-40 – 38%
women over 40 – 14%.
The success rates for IVF using embryos in 2021, based on clinical pregnancy, are:
using frozen embryos – 52%
using donor embryos – 68%.
UR Vistahermosa – Location
The clinic of UR Vistahermosa is situated in the gorgeous city of Alicante, a wonderful city with beautiful views all around. You will feel a sense of wonder when walking around this city, as there is always something nice to see. If you go to the beach you can expect a beautiful blue sea and wonderful beaches to walk on, and maybe even sunbathe. The city of Alicante is bound to have something for you, while you undergo your treatment.
The clinic is only 8 minutes from the city centre and 20 minutes from the airport, and it offers free airport pickup between the hours of 9 am and 5 pm, as well as paying for one night of your accommodation. So you can go to Alicante for your treatment, see some wonderful sights, and begin your journey towards parenthood.