After a well-deserved summer break, many couples decide to start or resume their journey to parenthood such as this year's Fertility Journey runner-ups, Laura (41) and Ian (44), who recently had their embryo transfer at our clinic.
Laura and Ian have been trying for 5 years to form the family they always wished for, but Laura has unfortunately suffered 4 miscarriages and 1 ectopic pregnancy – issues that most were due to Laura's immune system rejecting the transferred embryos. A situation which could only be addressed by carrying out specific tests to match a compatible donor to Laura such as the KIR-HLAC test.
During their last visit, the couple shared their views on the differences between IVF Spain and their patient journey experience in the UK.
"The major differences here have been that we've had additional tests, we had an endometrial biopsy here. I had actually been diagnosed with immune problems previously and we have had 4 miscarriages and 1 ectopic. So, we were given additional treatment here and additional tests to find out exactly what was going on with the immune system.
The results showed raised NK cells in some areas and low in others. We've paid thousands and thousands of pounds in the UK and never had this level of information or a biopsy – tests were restricted to a blood test. We were then able to have the KIR which matched a donor with us. We have also been put on a special protocol which is granulocyte (GCSF in the UK) to help us keep the baby during pregnancy."
Most of the patients who decide to start a fertility treatment abroad are concerned about the treatment process and the communication with the clinic. To make our patients feel taken care of throughout the whole process, at IVF Spain we focus on patient-centeredness and personalised treatments in their own language.
"We found the level of patient care absolutely amazing, every piece of communication we were given was reassuring and, unlike our treatments before, this consistent flow of communication took the pressure off us having to find out things for ourselves" – Laura and Ian.
In addition to open and clear communication, we are committed to always offering the best possible and empathic patient care, providing our patients with a relaxing and private atmosphere they need to increase their well-being and comfort.
"Absolutely everybody that we came into contact with has been reassuring, very confident. Nothing is too much trouble. We had a really smooth transfer; we had a beautiful room where we were able to relax in. The doctor was amazingly positive and all of the staff, the embryologists, the nurses… everybody is being consistently really nice and calm and reassuring. A very, very different experience to the ones that we've had in the UK."
"One of the biggest concerns our patients have during their treatment is related to the selection of a suitable egg donor" explains Dr. Sergio Rogel, Director of the IVF Spain Donor Department.
"Choosing a donor is one of the most important aspects of an egg donation treatment. All candidates undergo thorough physical exams to verify an optimal condition, psychological exams to certify their mental health and a gynaecological exam to determine both the number and quality of the eggs along with several additional tests.
Many of these medical exams and tests are legally required, but at IVF Spain we pride ourselves in giving our patients an extra level of assurance by testing all our donors on a genetic and immunological level. This allows us to discard more than 200 diseases, but more importantly, guarantee the health of all future babies."
"When a candidate passes all the mentioned tests she will automatically enter our donor pool and enter a database until being matched to a patient with the optimal phenotypic resemblance," says Dr. Sergio Rogel.
The fact that Laura and Ian couldn't take part in the selection process of their donor was liberating. For them, taking part in this process would have only added more pressure and stress. They were relieved of IVF Spain's donor department taking care of everything:
"In terms of finding the donor, we were able to give some indications regarding what was most important and sent some photographs across and then we didn't have to do anything else so we found that particularly good for not having too much stress because it is almost out of your hands and that enabled us just to focus on relaxing and having a nice summer before we came for a treatment in September. Having it taken out our hands made the whole experience easier."
From the IVF Spain laboratory, we received good news: the embryo transfer has been a success. All that is left for now is to wait 10 days to see if the transferred embryo was successfully implanted. We wish them the best of luck!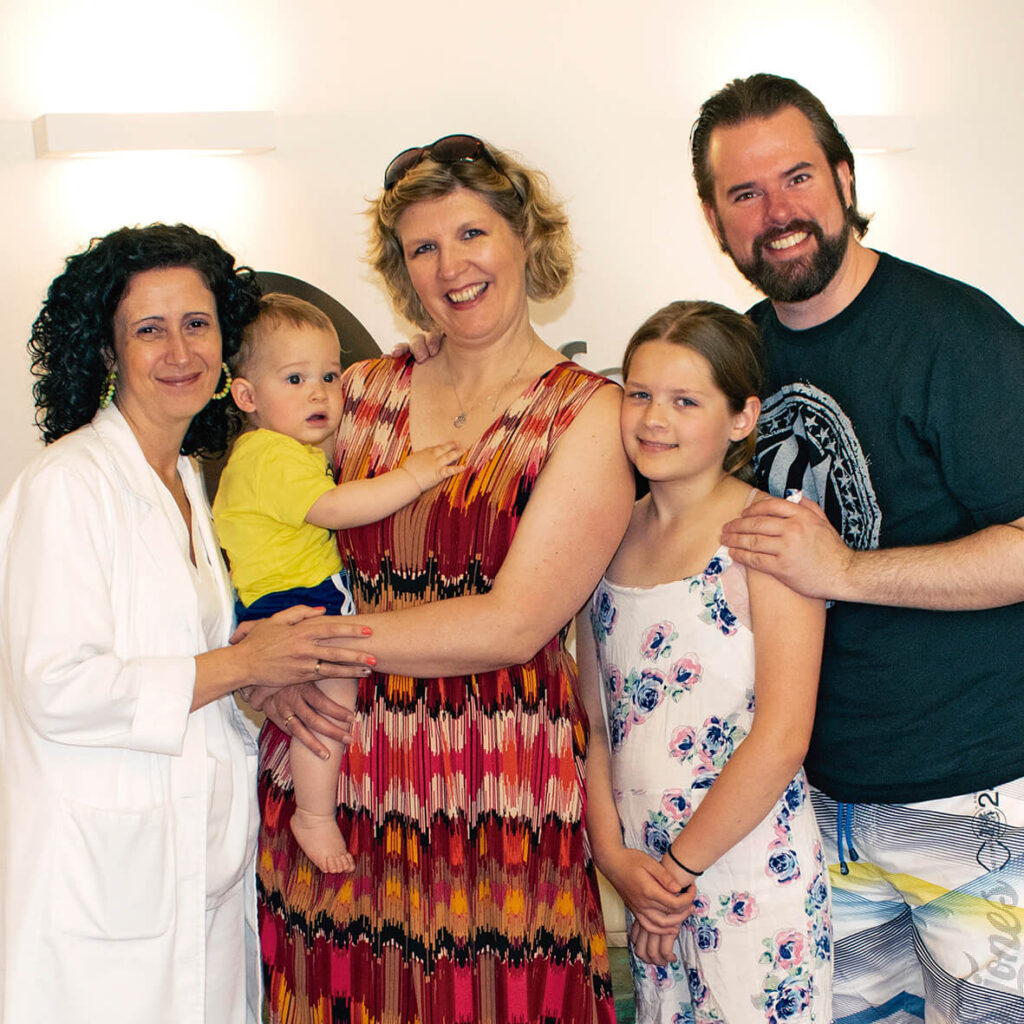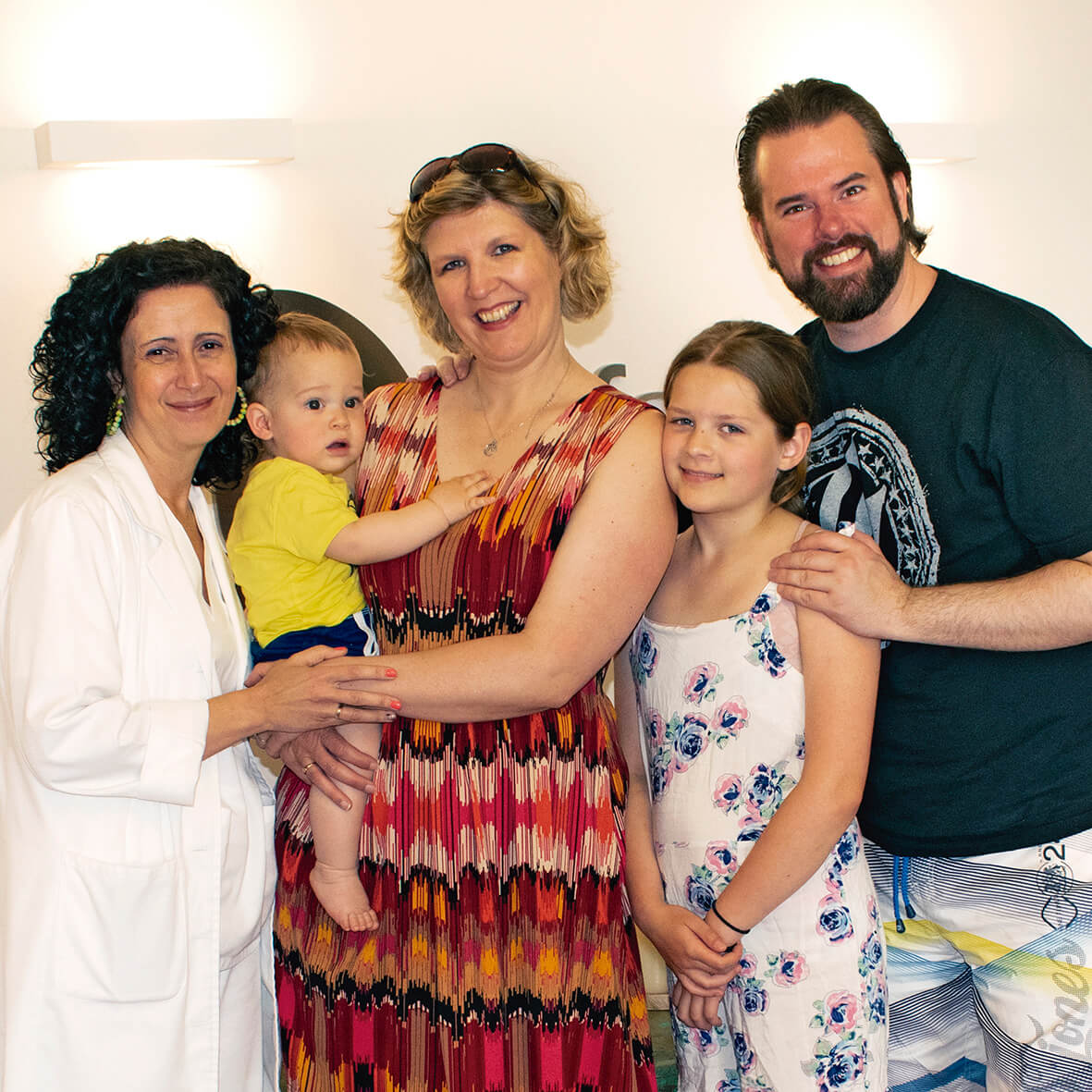 We also had the pleasure of meeting Victoria (47) and Ross's (39) little sunshine Rex. This lovely couple were eternally grateful to their egg donor for her wonderful gift and wanted to express their gratitude with this wonderful message:
"I would like to say to whoever you are and wherever you are in the world: THANK YOU! I don't think you realise what you did for us as a family, and for me personally as a woman. It made Ross a dad; something that … he was already, he was already a stepdad to our daughter but he wasn't a biological dad and I know that meant so much to him.
It made my daughter a sister. She always wanted a sibling and I was trying for a very long time to give her that. So now she is, and she is the best big sister you would ever meet, and it's a shame that you won't know how well she is doing. And as for me as a woman… It was hard to come to terms with the fact that I needed an egg donor to help me but what you've done is given me the happy family I always wanted to have."

Last but not least, we would like to welcome the newest member of the IVF Spain family. Little David, was born August 24th, weighing in at 7 lbs and 3oz. His mum and dad – 2017 runner-ups – Alka (44) and Rhodri (46) wanted to share this lovely message:
"Little David is such a joy, he gave us his first smile yesterday! We love being a family of four, and feel so thrilled and blessed that he has entered our lives. Our heartfelt thanks to the team at IVF Spain for making our dream a reality"