Unfortunately, our first donor egg treatment with Kirstie and Chris ended in disappointment last September but after a very brief discussion, the couple decided very quickly to return when convenient in order to try for the second time.
The second treatment would involve the transfer of frozen embryos.
Due to a lack of air service between their home and Crete Kirstie and Chris had to wait until the beginning of April this year to travel. A long and frustrating wait of seven months. We were delighted however to welcome them back and as the couple had 2 good quality blastocyst embryos vitrified, it meant that they had only to travel for the transfer.
In the weeks prior to Kirstie's visit, she started her treatment protocol on Progynova, baby aspirin, folic acid and Progesterone.
We met with the couple on 4 April and it was as if the six months wait had not happed at all! Kirstie was as happy and beautiful as last time and both seemed a little less nervous this time around as we had developed a great relationship since we first met back in September 2018.
Our scientific director Mr. Danny Daphnis had thawed the embryos early in the morning and was pleased to tell the couple that both embryos thawed intact and had not lost any of the cells during the warming procedure. We had one very good blastocyst grade A and one blastocyst grade B. We were always hoping that would be the case but uncertainty is always in the back of your mind when it comes to the thawing of embryos. The outcome drew great relief from both us and the couple!
Prior to beginning any treatment, we sit down informally with our patients to discuss their particular case; explain the procedures we will carry out and the reasoning behind them.
This is one of the most important moments of any patient visit because it allows us an opportunity to talk through protocol and procedure and allows the couple to ask any questions. At this moment we can allay any fears; clear any confusion and answer any questions.
The discussion we have with patients takes on an even greater significance after a failed treatment. So it was when we sat down with Kirstie and Chris.
We discussed the possible reasons why the embryos didn't implant at the first try in September – these included egg/sperm quality issues and a uterine cavity factor.
Once Kirstie and Chris understood some of the reasons why the first treatment failed they were able to ask as many questions as they liked until they were satisfied that everything that could have done, was done during their first visit. Kirstie and Chris were satisfied with our responses and thanked us for our frankness and efforts to date. Moving on together and fully informed we set about planning and undertaking the second embryo transfer.
We are extremely pleased to say that the second embryo transfer was performed without any problems. After the transfer Kirstie will have to continue the medication for a further 14 days. Prior to returning home she also underwent some additional hormonal tests in Chania to ascertain whether her hormone balance was sufficient in order for implantation.
Despite the disappointment of their first visit it was very nice to welcome Kirstie and Chris back to our lovely island and clinic. We were very pleased how the second treatment went and we now hope to hear some good news very soon.
It is important for us to be able to welcome back Kirstie and Chris in the future with a new addition to their family!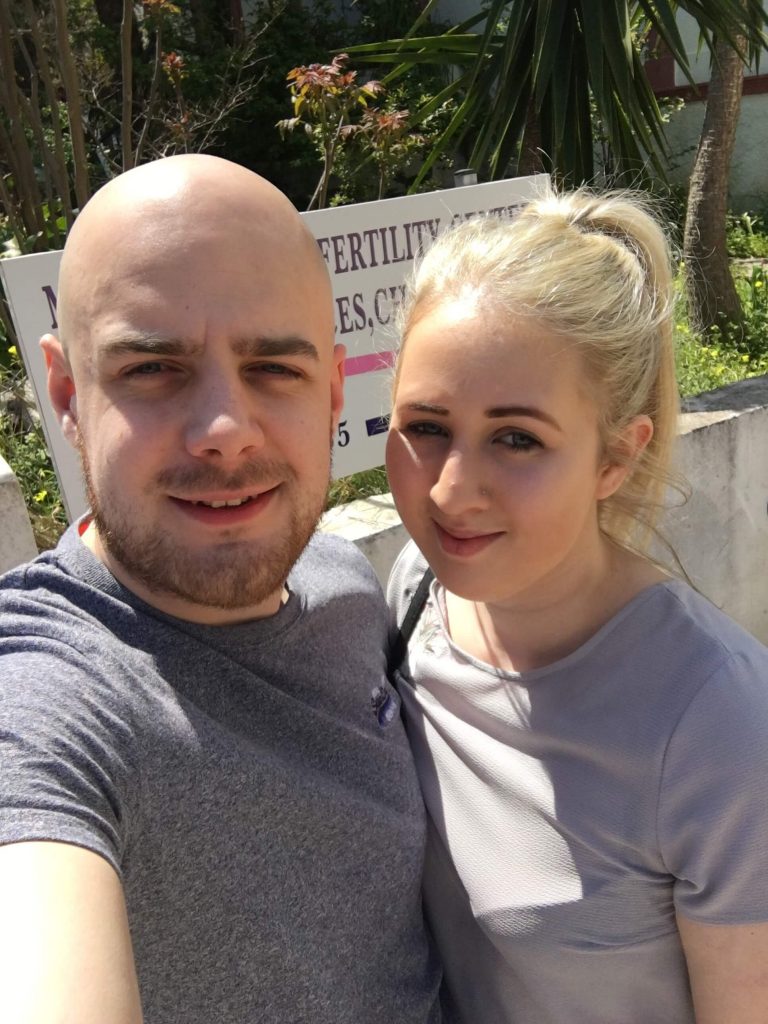 Kirstie & Chris revisit Crete
After our failed cycle in September last year, the clinic was very supportive and encouraged us to return when we were ready to try again using the frozen embryos from the fresh cycle. We wanted to take some time to accept the outcome of the cycle and we were not able to return as soon as we wanted because the airline only flies to Crete from Dublin in the spring/summer seasons.
Chris & I spent time after the negative result focusing on things that we enjoy, if anything it brought us a lot closer and we found that communication was very important during this hard time. We know that the clinic did everything they could to ensure the cycle was a success but it was not to be this time and we have every faith in the clinic that they will someday fulfil our dreams.
We decided quite quickly that we would return to the clinic on the first available flight in the spring and booked it only a few weeks after the failed cycle. Over the course of the next few months, we kept in touch with the clinic and they were able to advise on next steps in preparation for returning.
The coordinator Shirley was helpful as always with any question that we had although we didn't have many this time as we knew what the process would be!
As the time was approaching towards our return, I had my blood levels checked on day 2 of my cycle and I also had 2 ultrasounds completed checking my womb lining measurement.
All the results were looking good and on 3rd April the big day from Dublin and we arrived in Chania that night. We stayed in a city hotel close to the clinic so we could access it a lot easier than last time.
On 4th April we headed to the clinic and had our frozen embryo transfer. The embryologist discussed the failed cycle with us and explained to us about this transfer. We were pleased to hear that our 2 embryos had thawed well and they were later transferred. Everything went as expected and after a short rest, we left the clinic and returned to the hotel.
We spent another few days in the hotel, returning back home on 7th April. It was good being able to chill out and have nothing to do for a few days. The weather wasn't great so we spent most of the time just relaxing.
After the failed cycle I did not know how I was going to be able to return to the clinic for another round. As time went on and with support from my partner & the clinic it made me feel more at ease and realize sometimes things don't always work out and we must remain positive in the hope that one day it will work out. I am feeling a lot more positive after this cycle as I knew what to expect this time. We are now on the 2 weeks wait and will be waiting for my BFP (hopefully!).
We are very grateful to the Mediterranean Fertility Institute for giving us this opportunity to return to their clinic and try again. They couldn't do anything more for us and for any couples reading this and thinking of going abroad for treatment, we would highly recommend this clinic.