When Tom suffered life-changing injuries in a car accident aged 29, he was told by doctors that he'd never have children. 11 years later when Tom met the love of his life, Joanna, they bravely decided to embark on IVF – Tom's only chance of fathering children. Here, they share their story…
Clare: Joanna & Tom, thank you so much for talking to us at Fertility Road and sharing your experience with our readers. Tom, please share some background about your disability.
Tom: Back in February 2001, at the age of 29 I was a passenger involved in a horrific car accident. I was on my way to work and the car I was travelling in sped off-road into a tree. I broke my spine and was left paralysed from the chest down. In addition to having to come to terms with spending the rest of my life in a wheelchair, I also had to accept that I couldn't have children.
Clare: I'm so sorry to hear that. It must have been an incredibly difficult time. Tell us about how you and Joanna met?
Tom: Joanna and I met in 2012. We met online and quickly moved from chatting via the Internet to meeting in person. When we first met for coffee, the connection was immediate.
Joanna: It was definitely love at first sight for us! Our relationship moved quickly.
Clare: Did you discuss in those early stages, what your life together might look like?
Joanna: Yes, we knew very early that we wanted to spend our lives together and have children. At the time I was working at Invicta Fertility Clinic in Warsaw, Poland. My job gave me valuable insight into the possibilities that IVF held for us. I knew that there were medical procedures available to help Tom with his fertility.
Tom: I was excited at the prospect of having a family with Joanna. I was aware that given my disability, parenting would have its physical challenges but Joanna gave me confidence. I'd never met such an energetic, capable woman in my life before. I felt that together, we could achieve anything.
Clare: When did you decide to start IVF treatment? Where did you have your treatment and what were the costs involved?
Tom: Due to our ages – I was 39 years old at the time and Joanna was 37, we decided that it was important not to waste time. We needed to get on with it. We started our first IVF cycle in August 2012.
Joanna: Our total costs were 7,000 złotych (approx. £1,300). We were fortunate to receive a discount at Invicta clinic due to my employment there. Clare: What did your treatment involve?
Tom: Given my paralysis, it was essential for me to first have a surgical sperm retrieval procedure. This procedure is known as PESA and TESA. It involved a fine syringe being inserted into either the epididymis or the testicle to extract the sperm. It's a quick and relatively painless procedure that's usually performed under local anesthetic. Given that I have no feeling from the chest down, no anesthetic was needed in my case. I was worried that my sperm would be low quality. My sperm was assessed and thankfully, its parameters were good. Our clinic team recommended ICSI as this is a way of selecting the best sperm. ICSI (Intracytoplasmic sperm injection) involves an embryologist identifying the best-looking sperm under a microscope. A fine glass needle is used to inject the best sperm into the egg. We progressed to IVF. Joanna underwent a long protocol stimulation which went very well. 8 eggs were collected, 4 successfully fertilized (with ICSI) and resulted in 2 viable embryos.
Clare: That's a great result for your first cycle of IVF. What happened next?
Joanna: Both embryos were transferred and a few weeks later, we were thrilled to hear that we were pregnant – with identical twins! This means that one of the embryos had divided in two resulting in two babies.
Clare: What a wonderful result! How did you feel during your pregnancy?
Joanna: I felt very well. The babies did arrive early though, at 7 months gestation. The boys, James & John were born on 21st March 2013.
Tom: Both boys were very underweight at birth (2.8 pounds each). This meant that they stayed in hospital with Joanna for the first month. Once they both reached a min of 4.4 pounds in weight, they were allowed to come home.
Joanna: We were overjoyed to come home and whilst those first few weeks and months were exhausting looking after twins, we couldn't have been happier!
Tom: Being in a wheelchair, I was very aware that Joanna was carrying much of the physical burden of caring for our babies. I did everything I could and have learnt to become a hands-on, involved parent despite my disability.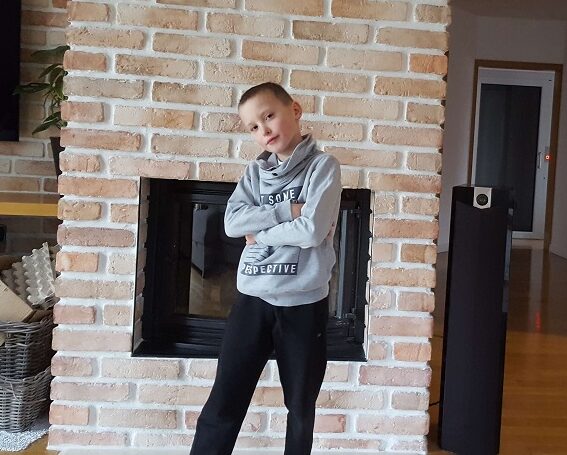 Clare: How old are your sons now?
Joanna: Our boys, James & John are now 9 years old. I have a very busy career as manager of Parens Centre of Fertility Treatment in Krakow, Poland. Tom supports me by looking after the boys and their school/home routine.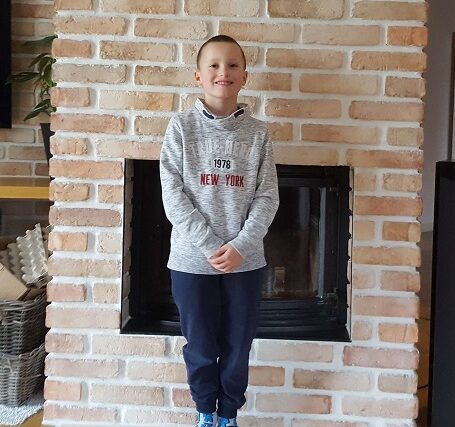 Tom: I have devoted myself to overseeing our boys' education. I love being a hands-on father – something that for many years I never thought I'd have the chance to be.
Clare: I'm sure that you feel that your family is complete. Did you ever consider more cycles of IVF?
Joanna: Yes, we felt that our family was complete with James & John. So, we didn't feel the need to do IVF again.
Tom: Having twins is perfect for us. Being in a wheelchair, my concern with a single child was that I wouldn't be able to get up and kick a football around with them, to play the sports that most fathers take for granted. With my twin boys, I can watch them play football together and cheer them on from the sidelines.
Clare: Do you have any advice for couples in a similar situation to yours?
Joanna: From my perspective, having fallen in love with a person with a disability my advice is don't be afraid to explore your options for having a family. Medical advancements in fertility care are astoundingly good.
Tom: I agree with Joanna. Explore your medical options and try to find a way around your disability. Don't let it hold you back from having a family if that's your desire. I would also urge anyone in my position to never give up. My favourite song is 'Hey You', Pink Floyd. The lyrics always inspired me to never give up. Pursue your dreams; live the life you always dreamed of.
Many thanks to Tom & Joanna for sharing their inspirational journey to parenthood. Their story is a wonderful example of how IVF can be a life-changing experience.