IVF treatment availability at emBIO
IVF at emBIO Medical Center - restrictions
Woman maximum age
54
Single woman
Allowed
Same sex female couples
Allowed
HIV (female)
Not allowed
HIV (male)
Not allowed
HCV / HBV (female)
Allowed
HCV / HBV (male)
Allowed
About emBIO
emBIO is a fertility centre based in the Chalandri suburb of Athens, the capital city of Greece, and has been helping men and women achieve their dreams since it opened in 1996, that's over 25 years ago. Since then they have helped over 30,000 babies to be conceived through their treatment. Thanks to this they became the first clinic in all of Greece to receive their ISO 9001:2000 certification, and they currently hold ISO 9001 2015 and ISO 15224 2017 certifications.
At emBIO, they have two world-class laboratories, three operating centres, and two ensuite recovery rooms, all designed with your treatment and recovery in mind. All of this is inside a beautiful and modern building that will leave you in awe as soon as you see it. Their colours of choice are a mixture of light and dark colours that are surprisingly complementary towards each other, and, combined with all of the natural sunlight pouring in through the windows, will help you feel calm and relaxed while waiting for, and undergoing your treatment.
Thanks to their quality of care and state-of-the-art technology the clinic is able to help patients when it comes to more difficult cases of infertility such as PCOS or advanced age. This is especially important as a lot of clinics don't offer their services for what they deem to be problematic cases, so emBIO is offering a chance to a lot more people because they believe that everybody should have a chance at bringing a baby into this world.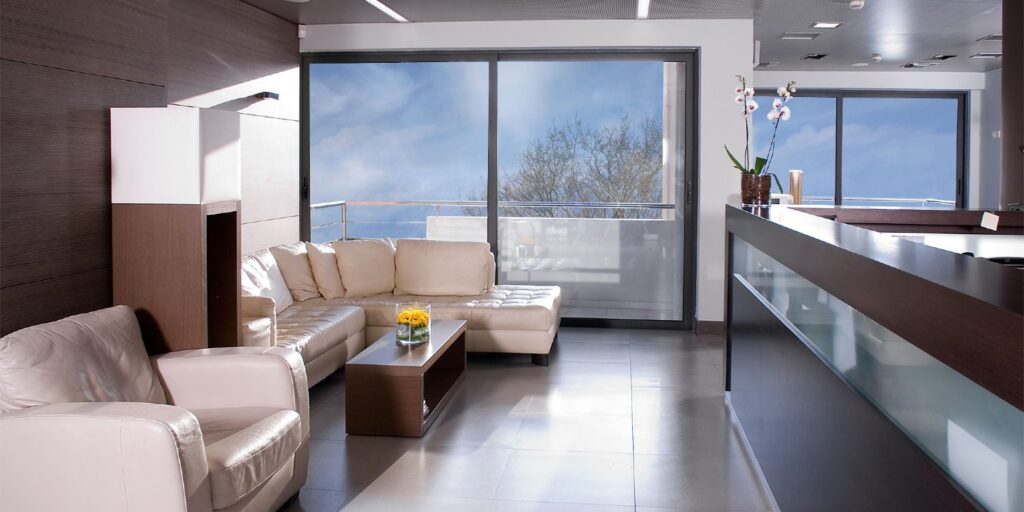 It is not just more difficult cases that the clinic deals with but they also offer treatment to LGBTQ+ couples because sexual orientation shouldn't stop you from having the family that you desire. If you are an all-female couple you will have the option of undergoing a treatment called ROPA, which is Reciprocal IVF. ROPA is a method that has been designed so that both women in the couple can feel like they are a part of the process of bringing a baby to life, it works where one partner will be carrying the baby to birth, and the other will be donating her eggs so that they can be transferred into the one who will become pregnant.
When it comes to your treatment there is no one-size fits all approach, as each case is unique. At emBIO your doctor will come up with an individualised treatment plan that has been designed specifically for your case and needs. This way they can offer you what they see as the highest chance of success, and with a personalised approach like this you will be able to understand how much they care about helping your dreams come true.
International patients are very welcome at the clinic as they have their own international team designed to help patients from all over the globe. Thanks to this, their patient liaison can assist you with all aspects of your travel, so that you have a much easier time while undergoing your treatment.
Experience and Medical Staff at emBIO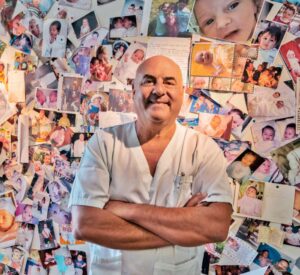 The medical director of emBIO is Dr. Thanos Paraschos. He is a highly acclaimed and world-renowned obstetrician and gynecologist who specialises in infertility treatment. He has achieved a lot in his career, including being part of the team that was responsible for the world's first PGD (Preimplantation Genetic Diagnosis), which was performed at Hammersmith Hospital in London. He was also part of the team that invented the Rigid Wallace Catheter, which is a device that is used when embryo transfer is particularly difficult, and this has since been used by thousands of scientists all over the world. Thanks to his success and achievements, he was appointed as a Professor in The Department of Obstetrics and Gynecology at a university in New York – St. George's University School of Medicine. As well as all of the above, he is also a member of numerous fertility societies such as the British Fertility Society, ESHRE (European Society of Human Reproduction and Embryology), ASRM (American Society for Reproductive Medicine), and HSFS (Hellenic Society of Fertility and Sterility).
It is not just Dr. Thanos Paraschos at the clinic as they are home to five fertility doctors and five embryologists, one of whom is a senior embryologist and has over 28 years of experience under their belt. The team at the clinic is varied and holds specialties in many different fields and are urologists, cardiologists, breast specialists and more, all of whom are very highly qualified and help the clinic see to all of your needs. Also part of the team are three gynecologists: Dr. Elias Gatos, Dr. Amalia Georgakaki, and Dr. George Theodoropoulos, who is also an IVF Fertilisation and Endoscopic Surgery specialist, as well as the head of the IVF laboratory, Dina Katrania-Paraschou.
You will have no worries when it comes to communication with the clinic as they deal with international patients all the time, so they have an international team especially for this, especially to help with translation. The staff at the clinic are fluent in English, so if you are an English speaker in any form then you will be able to talk with the staff without any problems, and as such you will be able to have everything explained to you in a clear and concise manner, meaning there will be no misunderstandings at all.
IVF Costs at emBIO
The cost of your treatment with emBIO can vary depending on which procedures you require, as well as which add-ons you choose to have, so your overall cost may differ from the standard prices below, although you can discuss this with your doctor at your consultation, the cost of which, for the first one, is free.
If you require artificial insemination you will undergo the procedure either with your partner's sperm or donor sperm. If you undergo IUI, Intrauterine Insemination with your partner's sperm, then this will cost 300 Euros, whilst AID, Artificial Insemination with a donor, is 300 Euros + a minimum of 200 Euros for donor sperm. If you undergo AID, so the total will be a minimum of 500 Euros.
As the circumstances of each patient are different there are different prices for each procedure, due to the varying options in each. For standard IVF the cost is 2,500 Euros. There may be cases where you are required to undergo treatment using donation, and there is treatment using embryo, egg, and sperm donation available. The cost of treatment using embryo donation is 4,800 Euros, while the cost of treatment using egg donation is 4,500 Euros. The cost for treatment using sperm donation is 2,800 Euros, although this is standard IVF treatment using a sperm donor, with the prices above for both IVF and donor sperm coming together (2,500 Euros and 300 Euros to equal 2,800 Euros).
emBIO offers an innovative approach to ovarian rejuvenation with PRP (platelet-rich plasma), catering to women who are planning to undergo IVF with their own eggs, and who are either approaching or already experiencing menopause, exhibiting early menopausal symptoms, or have been diagnosed with ovarian failure. In parallel, emBIO offers Uterine Rejuvenation with PRP, also known as endometrial rejuvenation or endometrial regenerative therapy. This procedure is designed to optimize the thickness and overall health of the uterine lining, medically referred to as the endometrium. The cost of this therapy at emBIO is 1,500 Euros.
If you are an all-female couple then you may be looking at IVF treatment of your own and thankfully emBIO has an option available for you, which is ROPA. ROPA is Reciprocal IVF where one of the partners carries the baby through pregnancy and the other donates her eggs so that both mothers are part of the process. The cost for this treatment is 2,500 Euros.
Basic IVF packages cost at emBIO Medical Center
Intrauterine insemination (IUI)
€300
Artificial insemination with donor (AID)
from €500
IVF with own eggs
€2,500
Egg donation IVF
€4,500
Embryo donation
€4,800
Egg freezing
€500 (includes 1-year storage)
Sperm donation
€2,800
ROPA
€2,500
Surrogacy
N/A
IVF add-ons and other costs
Whilst undergoing any of the above treatment options you may wish to have additional options available to help your chances, and they come at an additional cost. The clinic offers Embryo Monitoring for 500 Euros, where the embryos are monitored more closely and more often to help the embryologists select the best embryos for your treatment. You can also have an add-on called Blastocyst Culture, which also costs 500 Euros, which is where the embryos are chosen and transferred once they have reached the blastocyst stage, which can allow for better implantation. Finally, you have the option of PGT-A/PGS genetic embryo testing for 2,000 Euros, and this is testing performed to ensure there are no genetic defects or abnormalities in the embryos that can lead to a failed pregnancy or health problems with the child in the future.
You may also be interested in reading: IVF Success Stories – PGT-A – by embryologists from emBIO clinic
If you wish to have your sperm, eggs, or embryos frozen in order to be used at a later date then you have this option available to you. Sperm freezing will cost 300 Euros, whilst egg freezing will cost 500 Euros and this includes a year of storage. If you are undergoing treatment and have embryos left over that you wish to freeze, then you can pay for the vitrification and storage of these embryos for one year, and this will cost 800 Euros. If you wish to have the embryos transferred at a later date then you can pay for FET (Frozen Embryo Transfer), this will cost 950 Euros.
Other IVF techniques costs at emBIO Medical Center
Medical consultation (doctor)
free
Donor sperm
from €200
Sperm freezing
€300
Embryo Monitoring (e.g. Embryoscope)
€500
Blastocyst culture
€500
PGT-A / PGS genetic embryo testing
€2,000
Embryo freezing and storage for 1 year
€800
FET - Frozen Embryo Transfer
€950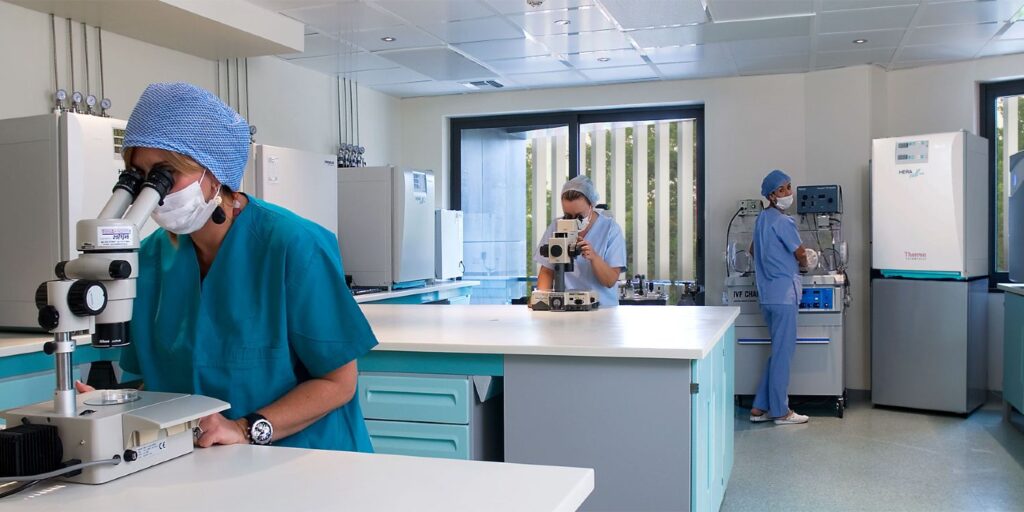 IVF Success Rates at emBIO
The success rates for emBIO for the year 2021 are all based on achieving a clinical pregnancy, which is where the foetus can be seen or heard, and performing an average of 750 IVF cycles per year with a patient's own eggs, and an average of 350 IVF cycles per year using donor eggs.
The success rates are:
IVF using patient's own eggs – 51%
IVF using egg donation – 67%.
If we break down the numbers for IVF using a patient's own eggs we can see what the success rates are for each age group:
Under 35 years old – 53%
35 – 40 years old – 43%
Over 40 years old – 32%.
The success rate for treatment using embryos are:
Frozen embryos – 59%
Using embryo donation – 51%.
Lastly, you can see the success rates for donor eggs, based on a single IVF cycle, and they are as follows:
Fresh donor eggs – 68%
Frozen donor eggs – 60%.
As you can see emBIO achieves success rates that are above average when compared with fertility clinics around Europe.
emBIO – Location
The emBIO medical centre is situated in Athens, the capital of Greece and a beautiful city on the coast. The clinic is only 12 minutes away from the Chalandri city centre and a few miles from the airport, and if you need it you can pay for an airport pickup that the clinic will arrange for you. Thanks to the concierge services that the clinic offers you can also receive discounts at some of the local hotels, to help you save money on your trip to the city. If you are an international patient, they can work with you thanks to their international travel package, which also includes access to a translator. Whilst in Greece for your treatment, you will only be required to stay for a few days and then you can have monitoring and testing performed in your home country in coordination with the clinic if this is what you wish.
No matter how long you spend in Athens you might find yourself with some free time and wish to see the sights. With the city being of such historical significance you can see wonderful sights such as the Parthenon and the Acropolis, both of which are almost 2,000 years old and a must-see on any visit to the city. You can also see their beautiful beach or the Central Market of Athens, which hosts many different stalls containing all the food you can imagine, and you can even pay for a tour around which will enable you to sample some of the delights on offer. With so many things to see, do and eat, in Athens, you can combine your treatment with a beautiful tour of a truly wonderful and beautiful city that everybody should see at least once.