- Advertisement -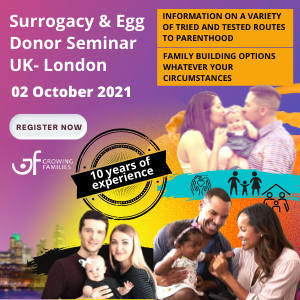 To kick-start IVF Spain's role as one of our partners for Fertility Journey 2014, Dr Aizpurua has outlined a guide to IVF treatment in Spain.
An increasing number of couples consider travelling abroad for fertility treatment, yet choosing a good IVF treatment fertility clinic is never easy, and people need to know that medical intervention abroad is not free of risk.
There are many countries now offering IVF treatments, with a few destinations standing out. Up to 40% of European IVF treatments abroad take place in Spain.
But wherever you choose to go, and in order to make a meaningful choice, here are some specific points to consider when choosing a clinic abroad.
Your 10 things to consider when choosing IVF treatment in Spain
1. Your medical practitioner or gynaecologist knows best
He or she is the one who knows your case, your history and your evolution. Often couples have too many sources of information and this can be confusing. Share information, doubts and questions with your medical practitioner – that is what they are there for.
2. Choose quality internet sources
Follow your medical practitioner's advice when it comes to information about treatments that best suit your situation, and take time to understand them. Read about the latest IVF treatments and technologies – after all, the science and medical field is continually researching and developing new products to improve results. Use videos available on YouTube and serious medical or patient sites, but do not trust every opinion in internet forums.
3. Patient experience
Doctors are the best source for answers to medical questions, but experienced patients know about quality of care, pros and cons of clinics, evaluation of physicians, labs and teams, as well as prices. When consulting other patients go to specialised forums.
4. Science, research and quality assurance
Clinics that do no research offer standard solutions and often do not know about the latest medical developments. They are also usually too small to afford the latest technologies. Size matters, but remember, on the flip side, too big can mean too impersonal.
5. Organise your information to help you with decision making
Once you have read up on the range of treatments, medical issues, processes, technologies and quality of care, make an Excel spreadsheet where you include pregnancy results, external evaluations of physicians, the lab and the team. Also, ensure the clinic tests donors and couples for genetic disease with preconception screening, so that risk of hereditary diseases is reduced to a minimum before pregnancy.
6. Size is not everything
Although IVF treatments are expensive and price is a barrier for many couples, choosing a low-cost location may be risky or more expensive in the end, because more cycles might be needed. And wherever you go, ask what happens if things go wrong – search for medical and safety standards and also ensure the local medical system will take care of you in case of complications. Also look for the standards and practices of embryology labs: half of the success of IVF will depend on them!
Check if there are governmental regulations, health inspections and if they are audited. You can find this information in numerous scientific journals.
7. Compare centres
The best website does not necessarily mean the best option for you. It shows that the marketing budget is high, but try instead to get to know the physician who may treat you. Ask for online consultations to boost your research.
8. Select two to three clinics
Make a final selection of four to six clinics and focus on specific results for cases like yours. Your categories should be transparent in terms of pricing, personal care, honesty, plus experience of doctors and embryologists.
9. Arrange for an online consultation
The online consultation with the team at IVF Spain will enable you to go a long way towards gauging if the physician is professional, competent and empathic. During a first consultation a good doctor should ask important medical questions that might help you improve your chances of success.
10. Trust yourself
If you follow the previous nine steps you will have completed some in-depth medical and market research. You have now enough data, opinion and insight to take a qualified decision. Good luck. www.ivf-spain.com